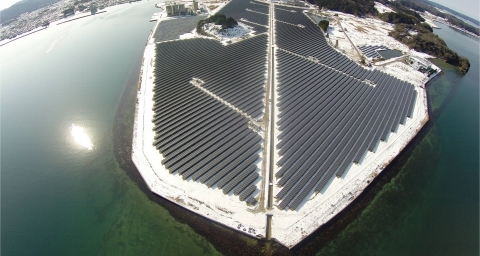 French oil and gas giant Total has scooped 20% of solar power awards during the most recent tender process.
The supermajor, who has moved decisively into the renewable energy market in recent years, won more than 135 megawatts (MW)
Total Quadran, a wholly-owned renewable energy subsidiary of Total, was awarded with 131 megawattpeak (MWp) of solar projects in the seventh round of the French Energy Regulatory Commission tender for ground-mounted solar parks, as well as 5.6 MWp of solar in the French Overseas departments.
The firm will operate the 50 MWp solar plant in Valenciennes, which is the largest project awarded in the call for tenders and Total Quadran's biggest solar plant to date.
Total announced last week it will build a £13 million battery-based storage project for the development of renewable energy in France.
The firm said it will build a lithium-ion energy storage system with a storage capacity of 25 megawatt hours (MWh) and output of 25 MW of power.
The new Lavéra (3 MWp), located in Bouches-du-Rhône, Serpaize (5 MWp) and Brignoud (4 MWp), both in Isère, all located on industrial brownfield sites were also included in the winning CRE 4.7 tender.
Thierry Muller, general manager of Total Quadran said: "Total Quadran is proud to rank among France's renewable energy leaders.
"The results of this call for tenders illustrate our ability to put together solid, competitive bids in an increasingly competitive environment.
"Total's program to solarize industrial facilities by enhancing brownfield sites is a key factor in this success which we intend to carry on."
Recommended for you

Pouyanné calls for immediate action to reduce energy use