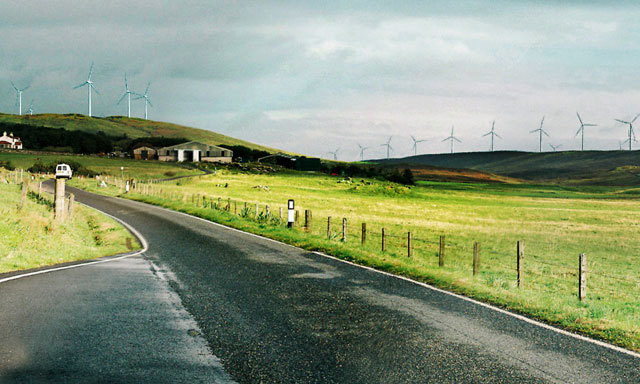 A giant Shetland wind farm project has received a significant shot in the arm after an energy regulator said it is ready to rubber stamp proposals for an energy link with mainland Scotland.
Ofgem approved plans tabled by SSE subsidiary Scottish and Southern Electricity Networks (SSEN) to build a 600 megawatt (MW) subsea electricity transmission link.
But the regulator added that its sign off on the proposal is contingent on developer SSE Renewables providing assurances on the go ahead of its 103-turbine Viking Onshore Wind Farm, which lost out on a UK Government subsidy bid in September.
Ofgem said it needs "sufficient evidence" on the likelihood of plans by the end of the year.
SSE Renewables reiterated today that it was "fully committed" to the project and was "seeking out other ways to fund" the wind development.
It described the project – a joint venture between the Shetland community and SSE – as "shovel ready".
Viking Energy Wind Farm partnership hopes to have the 475MW venture operational by 2024.
Jonathan Brearley, chief executive of Ofgem, said: "Ofgem's immediate focus is to support the energy industry so it can respond effectively to the Covid-19 pandemic and ensure consumers, especially the vulnerable, are protected.
"Today's announcement will help stimulate economic growth as the economy recovers from the coronavirus, as well as unlocking Shetland's potential to supply low cost renewable electricity for consumers across Great Britain."
Energy Voice understands that SSE is currently working on a commercial route to market for the Viking wind farm.
Around 140 local jobs would be created during Viking's construction phase, with around 35 permanent jobs needed to maintain the project once complete.
The wind farm would look to generate enough energy to power almost half a million homes.
A spokesman for SSEN said the firm "welcomed" Ofgem setting out its consultation position to approve the transmission connection from Shetland to the UK mainland.
He added: "As well as unlocking Shetland's renewable potential, the link would help address Shetland's security of supply needs as well as offering Shetland's oil and gas sector a unique opportunity to decarbonise its operational electricity requirements, delivering a whole system approach to support the transition to net zero emissions.
"Final approval of the link is conditional on the main driver for the connection, Viking Wind farm, reaching a positive Final Investment Decision and the outcome of Ofgem's eight week consultation process."