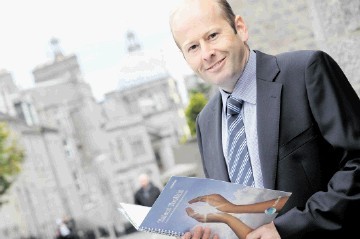 In 2011 Centrica announced plans to grow its upstream business by 50% within the next five years through a combination of exploration activities, new developments and acquisitions.
As one of the top gas producers in the UK, Aberdeen is the natural base for the business as it looks to grow, both in the North Sea and internationally, and just last year moved into new headquarters in the city.
Today, the UK imports about half of its gas, so strategic relationships with other countries are crucial.
Norway remains one of the world's largest gas exporters and is a natural partner to the UK, currently supplying around 20% of the country's gas.
Jonathan Roger, managing director of Centrica Energy Upstream, said: "Norway is a very attractive growth area for Centrica and somewhere where we've seen considerable success over the last few years."
The Aberdeen-based company set out to develop a better local understanding in Norway, buying non-operated stakes in key assets such as the Statoil-run Statfjord platform (pictured on the cover).
Dag Omre, regional director for Centrica Energy in Norway, explained how this approach allowed the company to build the knowledge and capability required to develop real scale.
"Centrica acquired its first licence in Norway in 2007 and has since become one of the fastest-growing new entrants in the region with over 60 people now managing Norwegian activities from our Stavanger office," he said.
This hard worked paid off in December last year when Centrica announced a £13billion 10-year supply deal that will secure enough gas to meet 5% of the annual UK gas demand.
At the same time it announced a memorandum of understanding with Statoil and a £1billion acquisition of some of its producing and developing gas assets.
Last week, the company announced that it was increasing its stake in the Statfjord field to 34%, having reached an agreement with ConocoPhillips to acquire its non-operated interests.
Mr Omre said: "These deals, which triple the size of our business here in Norway and see us operate our first producing asset, represent significant efforts by the Norway team. We are now looking forward to exciting times ahead."
In December last year, early appraisal results from the Butch prospect (operated by Centrica with a 40% share) indicated a significant presence of light oil in the reservoir with additional volumes already being targeted on the greater Butch area. With stakes also acquired in development prospects such as Valemon, the largest high-pressure, high-temperature gas development in Norway, there will be a big focus on exploration and development in the years ahead.
Centrica is building from a strong foundation with a higher-than-average exploration success rate in Norway and the UK.
The recent deals have brought the business significantly closer to its target of growing its upstream production by 50%, but there is still a lot to be done.
Mr Roger explained how the business is planning to achieve this by continuing to invest in the North Sea while looking to grow the business internationally, including in Norway, Trinidad and Tobago, and potentially other new basins.
"We have some exciting developments in the pipeline and a great track record for pioneering innovative technologies," he said. "Whether it is an exploration success, an asset acquisition or a new strategic partnership to secure energy supplies for our customers, it will be the dedication and innovative approach of our people that gets us there.
"Norway is a great success story for Centrica and comes at a time when the relationship between the UK and Norway, and indeed Aberdeen and Stavanger, will be more important than ever."
Recommended for you

Quattro acquires Maria licence in new deal with United