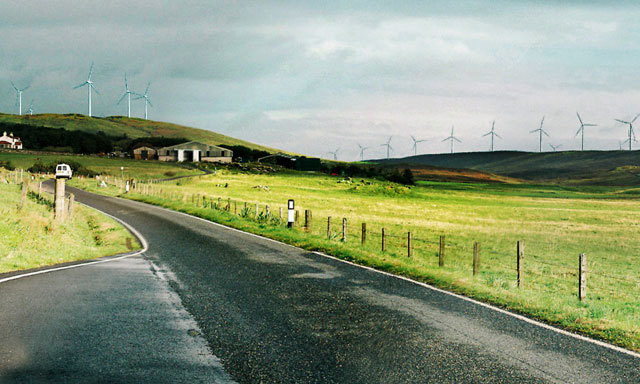 Plans for a giant power cable linking Shetland to the Scottish mainland are "crucial" to ensure security of the islands long-term energy supply, according to the firm behind the proposal.
SSE subsidiary Scottish and Southern Electricity Networks (SSEN) last night described the 200 mile interconnector as the most "viable" option following the planned decommissioning of the Lerwick Power Plant in 2025.
The company was reacting to claims by Danish firm BWSC that it could deliver a liquefied natural gas (LNG) plant to Shetland at a "fraction of the cable's costs".
A local wind energy campaign group, Sustainable Shetland, also disputed the need for the interconnector and SSE's ability to get a mammoth onshore wind project off the ground.
Plans to build the transmission link at a cost of around £600m have been provisionally approved by regulator Ofgem.
But final sign off on the proposal is contingent on developer SSE Renewables providing assurances on the go ahead of its 103-turbine Viking Onshore Wind Farm, which lost out on a UK Government subsidy bid in September.
Ofgem said it needs "sufficient evidence" on the likelihood of plans by the end of the year.
Frank Hay, chairman of Sustainable Shetland, called on Ofgem to "look seriously" at the proposal "in the interests of value for money for consumers".
He said: "We would certainly dispute that the transmission link is essential for security of supply for Shetland.
"The question then is, who would benefit from the link? Certainly not the Shetland residents who have opposed large scale wind farm plans here for many years.
"It looks like the estimated cost of an LNG terminal would be in the region of £60m, which sounds like a very good deal – even at twice the price."
SSEN maintained that it would pay the "lion's share" of the power cable costs.
A spokesman said: "Our well advanced proposal differs as it has the twin advantage of harnessing Shetland's renewable opportunities and connecting it to the mainland grid for the first time.
"It is required to allow the connection and export of renewable electricity from Shetland to the UK, supporting Scotland and the UK's transition to net zero emissions.
"It will also support Shetland's future security of supply needs, saving GB consumers £140m based on a rigorous assessment of the cheapest alternative and viable solutions.
"We look forward to the outcome of Ofgem's consultation and stand ready to deliver the critical national infrastructure required to meet Shetland's future energy needs."
Morag Watson, director of policy at Scottish Renewables, claimed the interconnector could bring "enormous economic benefit" to Shetland.
She said: "Scotland's islands have some of the most enviable renewable energy resource not just in the UK, but in the world.
"The development of an interconnector to transport clean energy generated in Shetland to the rest of the GB system will allow consumers across the country to take advantage of that resource, providing enormous economic benefit to Shetland as well as removing the need for polluting fossil fuel generation further south."
Recommended for you

Western Isles Interconnector: A big (positive) change from Ofgem