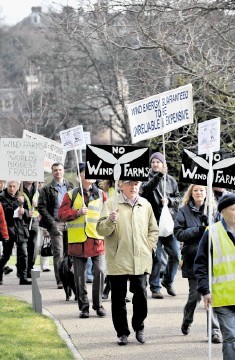 Windfarm protesters held a symbolic "wake" outside Eden Court Theatre in Inverness on Saturday to highlight their concerns about developments on wild land.
More than 70 people took part in a march led by "pall-bearers" carrying a black coffin to the door of the venue which hosted the three-day Liberal Democrat conference.
They had hoped to secure talks with UK Energy and Climate Change Secretary Ed Davey – but he did not meet them.
Protest group convener Pat Wells, from Tomatin, a member of the Stop Highland Windfarms Campaign group, said: "Our message is directed to all the political parties who support the current wind industry gravy train.
"Electricity generation from wind is not free and not green. It is inefficient, very costly and makes no significant difference to our carbon emissions and may even increase them."
George Heggarty, 62, of Lhanbryde in Moray, led the march. The former art lecturer said: "I haven't been on any political march since I was a student more than 40 years ago – but I feel so strongly about this issue of the wilderness being trashed by ruthless developers.
"As a member of a climbing club and the John Muir Trust, it breaks my heart to see fantastic areas of wild land being encroached on by wind turbines."
Protest group spokeswoman Lyndsey Ward, of Beauly, said she and three other representatives from the group passed on copies of the speeches to MPs and MSPs.
She said: "The march went well. It was really positive. There were people there from Ayrshire and Aberdeen as well as from across the local area, so we were really pleased with the turnout."
She said she was "furious" that Mr Davey had not met the group, particularly as Scottish Energy Minister Fergus Ewing had done so at the SNP conference last year.
She said: "It is a really serious issue for people who are living with these turbines. Politicians have to talk to us to understand what is going on. These parties have got to start listening if they want to get our votes."