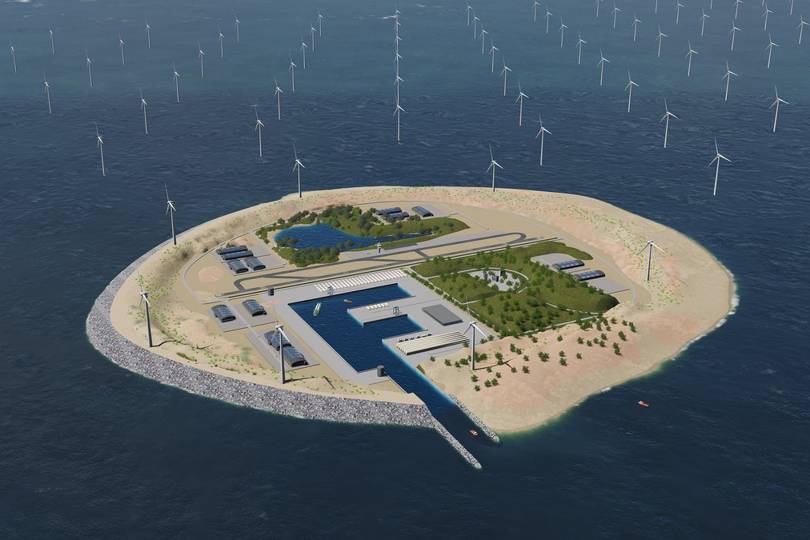 Brexit has "got in the way" of the UK collaborating on a major North Sea wind "island" complex, according to one of the project's main partners.
Nico Van Dooran, director of new business at the Port of Rotterdam, was speaking last week at an industry webinar hosted by Aberdeen's Oil and Gas Technology Centre (OGTC).
The Port is one of the main partners in the North Sea Wind Power Hub (NSWPH), a bid by German, Dutch and Danish firms to build an island or series of interconnected islands to supply a substantial part of Europe's future sustainable power.
Mr Van Dooran told the Insight 60 webinar that work to include UK firms had taken place, but has been obstructed by Britain leaving the EU.
He said: "We have been working on a project called the North Sea Wind Power Hub. There was cooperation with Dutch, German and Danish companies.
"We have been trying to get the British energy industry involved but Brexit was really getting in the way of all these developments.
"But I think we should continue and share our knowledge on both sides."
Last July the consortium, comprised of the Port of Rotterdam, TenneT, Gasunie and Energinet, released studies showing the idea was feasible, with the gradual role out of the first of 10-15GW hubs in the 2030s.
For comparison, HornSea One off the UK, billed as "the largest offshore windfarm in the world", has capacity of 1.2GW to power over one million homes.
NSWPH's ambition is massive, with the consortium saying its approach could bring 180 gigawatts of offshore wind by 2045, supplying the EU via transmission connections.
The UK already has excellent offshore wind resource, home to some of the largest wind farms in the world, so may not domestically require the NSWPH.
However, as Iain Staffell, a sustainable energy lecturer at Imperial College London, told Wired magazine last year, collaborating on the project could help the UK sell excess supply to mainland Europe when needed.
Although the UK formally left the EU in January, the consortium, which signed its agreement in 2017, is still open to others coming on board to the programme
Mr Van Dooren of the Port of Rotterdam also spoke about the work around hydrogen and carbon capture and storage (CCS) it is carrying out.
Asked about industrial cluster projects in the UK, he said there is also scope for collaboration there.
He added: "We are aware of some of the projects that are going on in the UK.
"We do have contacts once in a while, not enough I think, with some of the companies in the UK that are working on this.
"In the field of energy, for instance, in the development of carbon capture and storage, we do have contact. But I think we can share more and develop more together."