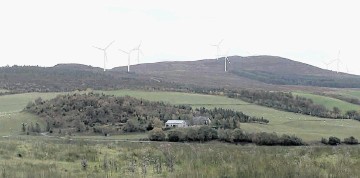 The company that attracted accusations of bribery by giving windfarm benefits to the north's new university has highlighted the size of its cash offer.
West Coast Energy said yesterday it was willing to give £10,000 per megawatt of installed capacity to the local and wider community – double the Highland Council's target for community benefit.
The firm announced last year that if planning permission to erect 23 turbines at Daviot was given the go-ahead, it would give the University of the Highlands and Islands (UHI) £4,000 per MW and £6,000 per year to the Strathnairn and Strathdearn communities.
The offers attracted criticism from Highland councillor Jim Crawford, a known windfarm objector, who claimed they were a "bribe".
However, UHI principal James Fraser defended the deal, claiming universities regularly formed similar business links.
Steve Salt, West Coast Energy's planning and development director, said: "We welcome the Highland Council's commitment to community benefit. Our projects are founded on the principle that communities should benefit financially from local windfarms and we are pleased to be leading the way in the Highlands.
"The £10,000 per MW per annum benefit package associated with our Daviot project is double the aspirational target proposed recently by the Highland Council and will bring double the benefit to the north communities.
"We believe that no other developer in the UK is proposing such a generous community benefit package and we look forward to seeing how we measure up against other developers when the Scottish Government's register of community benefits comes out next month."