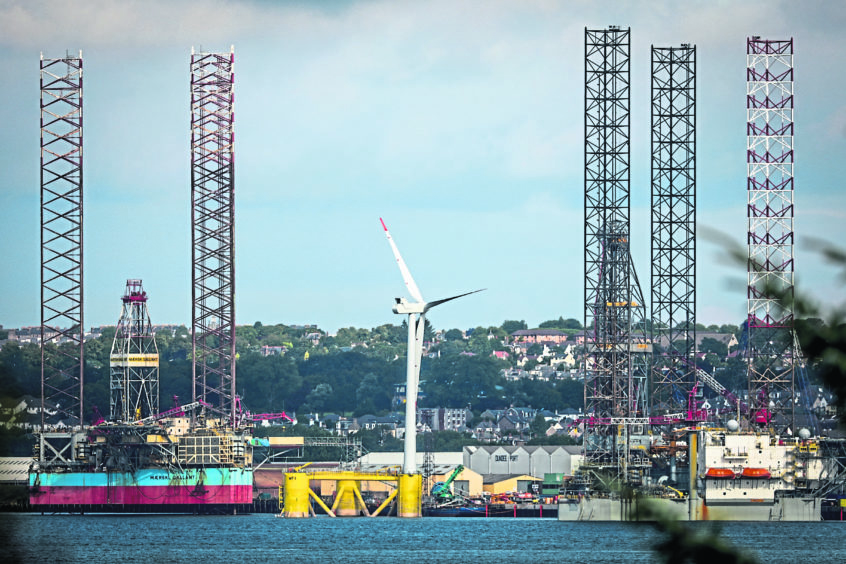 Plans for the "world's largest" floating wind project off the coast of Aberdeenshire have been delayed for more than six months due to the impact of the Covid-19 lockdown, bosses have confirmed.
The six-turbine Kincardine Offshore Wind Farm, which currently has one floating turbine sitting nine miles off the coast of Stonehaven, was planned for completion next month.
But a new director's report states the development has been hit by delays due to the UK Covid-19 lockdown and will aim to be finished in June 2021.
It blamed construction supply roadblocks for the delays to its operational timeline.
The Kincardine Offshore Wind Farm, which reported more than £3m in losses in its latest financial report, aims to provide enough electricity to power 56,000 homes once completed.
One turbine currently sits off the north-east coast.
Allan MacAskill, the Aberdeen-based project director, who had said in July he was "hopeful" the project would be completed by the end of 2020, confirmed the six-month delay last night.
He said: "The Kincardine project is running a little behind schedule but we're doing everything we can to progress it as quickly as possible.
"Things are progressing, it's fair to say it's delayed, but I can't say for certain whether it will be six months or not.
"It just depends on how things work with us, like the weather and the pandemic, but we're moving it forward."
Mr MacAskill added that a heavy transport vessel had set sail from Spain to Rotterdam carrying the wind projects first floating foundation last week.
The foundation will be constructed in the Netherlands before travelling to the site off the coast of Stonehaven.
Initially run by Pilot Offshore Renewables, the wind farm was expected to cost £250m back in 2016, but will now come in closer to £500m.
In 2018, the floating wind development was majority backed by a subsidiary company owned by Real Madrid chairman Florentino Perez, and was understood to cost around £350 million –  £100m more than first reported.
The development for the Kincardine project switched to Cobra Wind International in 2017, according to Companies House.
Mr MacAskill said he "really couldn't say" how much the six-month delay would cost the developer due to it being "confidential information".
He added: "Delays are always a possibility, but if we can do it quicker and faster, we will and that's what we're working on, as is safe and practicable as it is to do it."
The Kincardine Offshore Wind Farm project caused outrage last year when the Press and Journal broke the news that hundreds of manufacturing jobs would be created in Spain rather than in the north-east.
The move was described as "galling" by a Scottish union GMB.
A deal signed in 2019 by Cobra Wind International saw Spanish state-owned firm Navantia win a contract built the five wind farm turbine structures in Spain before being transported to the Aberdeen site.
Gary Smith, GMB's Scotland secretary, said the decision by Spanish fabrication firm Naviantia to create up to 350 jobs at its yards in Spain was part of a "long political failure" in Scotland.
He added that the situation threatened to "sink" Scotland's renewable energy supply chain ambitions before they had "even got started".