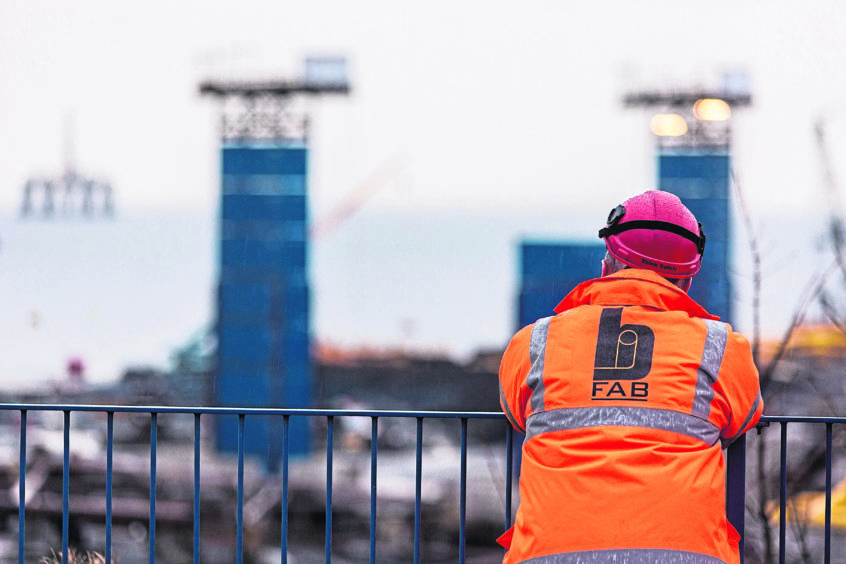 The Scottish Government has been urged to "pick up the phone" to Westminster and ask for support to secure the future of Burntisland Fabrications (BiFab).
Economy secretary Fiona Hyslop is meeting with union representatives as well as BiFab's Canadian owners DF Barnes today to discuss what can be done to save the stricken renewables manufacturing firm.
The Fife-based company has been dealt a number of blows in recent weeks that has left its yards teetering on the edge of collapse.
Last month, SSE Renewables announced that BiFab had missed out fabrication work for its Seagreen offshore wind development off the Angus coast, with the contract instead going overseas.
That was followed by Holyrood's decision to pull support for the firm, a move that placed future contracts in serious doubts.
The issue came to a head again yesterday after the Scottish Government published its Offshore Wind Policy Statement, which critics claim did little to address the issue of domestic supply chain firms missing out on local developments.
And ahead of today's summit, union officials have teamed up to call for Holyrood to give BiFab a fighting chance.
In a joint statement, Gary Smith, GMB Scotland secretary, and Pat Rafferty, Unite union's Scottish secretary, said: "The Scottish Government's decision to walk away from its previous commitments to guarantee BiFab's manufacture of eight turbine jackets on the Neart Na Gaoithe (NnG) project has put these yards on the brink of administration.
"Our unions have a legal view that the Minister has no reason or obligation to walk away from BiFab under EU State Aid regulations, but putting to one side the government's argument that will cease to exist in a few weeks' time, there is another option.
"The Scottish Government can pick up the phone to the UK Government and ask for the guarantees needed to give these yards a lifeline, and the chance of a future for the communities dependent on them.
"The UK Government has the scope to intervene and an interdependent approach could hold the key to saving the best chance we have of building an offshore wind manufacturing supply chain in Scotland.
"The Scottish Government often points the finger elsewhere to explain away repeated failures over renewables jobs, so it would be surprising if they have not even picked up the phone to the UK government for help.
"Workers and their communities in Fife and Lewis have no time for a constitutional blame game, and both governments, given their lofty ambitions for green jobs, could and should work together to bring this badly needed contract to Scotland."