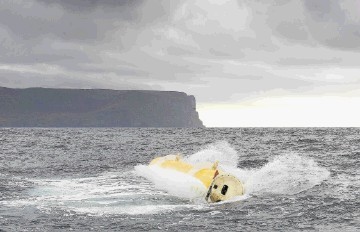 One of the largest marine energy parks in the world will be officially opened today in the turbulent waters of the Pentland Firth.
The narrow channel between Orkney and Caithness has some of the world's fastest tides, which are at the heart of the area's reputation as a global centre for marine renewables.
The new facility incorporates the existing European Marine Energy Centre to form the marine energy park, which rivals tidal barrage schemes in Canada and France.
Developers and environmental campaigners alike hope the new designation will attract investment to the area and help speed up the development of commercially viable marine energy devices.
UK Energy and Climate Change Minister Greg Barker, who is opening the park at Thurso today, said there was "no hesitation" about wave and tidal energy, although some people were concerned about the impact of offshore wind turbines.
He added: "People instinctively feel, looking at the waves crashing all around us, that if we should be getting renewable energy from anywhere it should be from the seas."
Orkney firm Scotrenewables is one of a number of developers currently testing devices in the Pentland Firth and manager John McGlynn said he believed about 80% of the marine renewables industry was based in Orkney.
He said: "The main thing the marine park designation will do is recognise the role that Orkney has had so far in this emerging industry.
"This is where the resource is in terms of tides. The designation will ensure that we attract more investment into the sector to see the kind of development that needs to happen."
The firm is currently testing a 250-kilowatt floating turbine in the firth that has been hooked up successfully to the national grid and there are plans to get a two-megawatt commercial design in the water in the next two years.
WWF Scotland senior climate policy officer Sam Gardner said: "We are already at the forefront of these important technologies and energy park status will help further speed up the commercial development of marine renewables.
"With careful planning, we can harness Scotland's wave and tidal energy to help cut our climate emissions, while safeguarding the nation's tremendous marine environment."
Recommended for you

Tidal Turbines: A rare Scottish success story