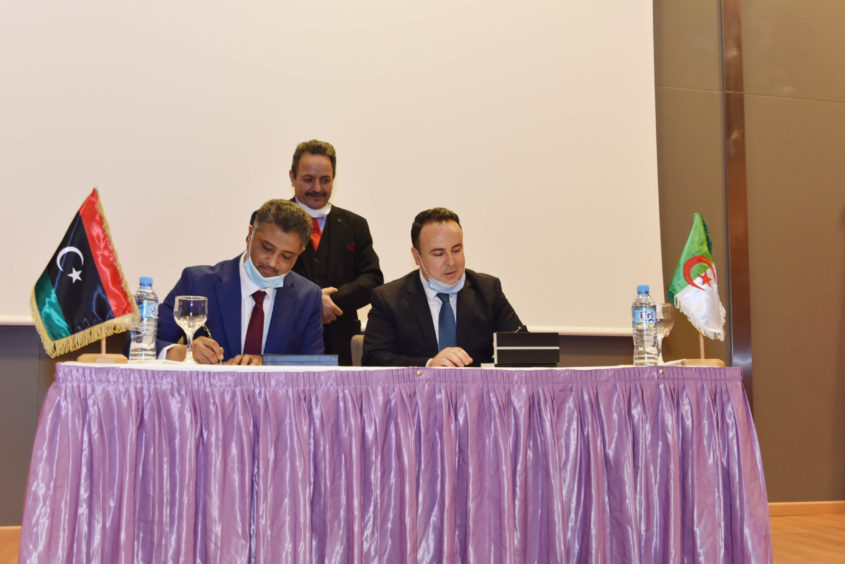 Algeria's Sonelgaz has signed a memorandum of understanding (MoU) with Libyan power producer Gecol.
The Algerian group agreed to provide services in various electrical power areas. These include maintenance of power plants, supplies and repairs, in addition to commissioning of power plants. The companies expect to work together on renewable energy and gas opportunities.
Sonelgaz will also provide training in various sectors, including production, engineering and management.
The companies signed the MoU on December 27 at the Ben Aknoun Training Centre. Gecol's chairman Wiam El Abdelli and Sonelgaz's CEO Chaher Boulakhres signed the agreement. Libya's charge d'affaires in Algeria attended the ceremony, as did the head of the Fédération Nationale des Travailleurs des Industries Electriques et Gazières (FNTIEG) Achour Telli.
Gecol's chairman welcomed the deal and gave thanks to the Sonelgaz team for delivering 500 MW of power to the Libyan grid in record time.
Sonelgaz sent a technical team from its SPE unit to Libya in October. The team came to work on the Khoms power plant, which supplies electricity to Tripoli.
The Algerian team followed a request for assistance from the Government of National Accord's (GNA) chairman Fayez al-Serraj to Algerian President Abdelmadjid Tebboune.
On the table
Libya's power problems are a major source of frustration for its citizens. A number of plans are under way in an attempt to tackle this.
Eni's CEO Claudio Descalzi visited Tripoli at the end of November, with discussions around renewable energy and gas production.
Turkey's Karadeniz Holdings has raised the possibility that it would supply a Powership to Libya, which could be a fast way to secure more generation capacity.
Greece's Mytilineos, on November 30, said it was relaunching construction on a power plant in Tobruk. Gecol has agreed a letter of credit, the Greek company said.
The first phase will have capacity of almost 160 MW. Once all three phases are completed, it will be able to generate more than 650 MW. It will be able to run on gas or fuel oil, Mytilineos said.
Recommended for you

Delta gets environmental nod for Vietnam LNG-to-power project