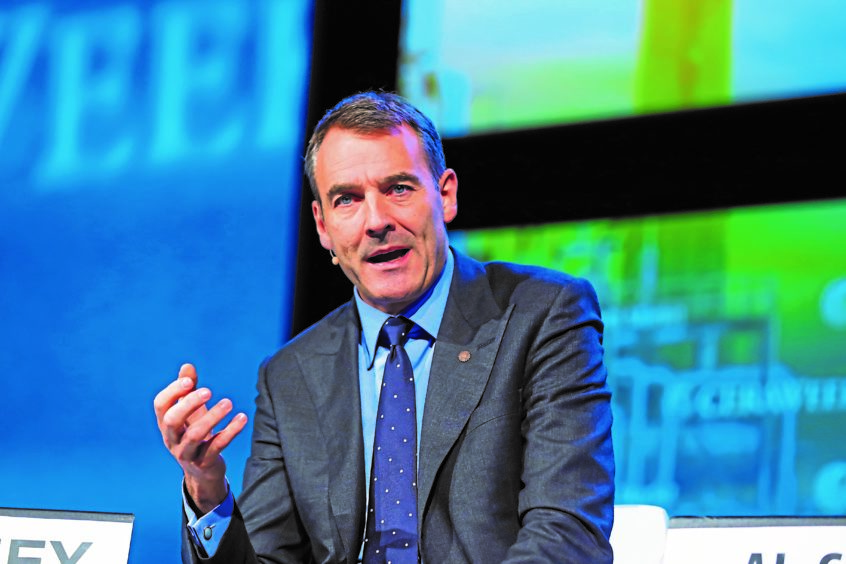 BP chief executive Bernard Looney said today that he would "emphatically" put value over volume when making low-carbon acquisitions.
Responding to shareholder concerns, Mr Looney stressed BP wouldn't do deals for renewable energy technologies and projects if they can't generate returns of 8-10%.
He said the firm had pulled out of the running to buy US solar assets last year because the purchase price did not "underpin the returns expectations", even though it would have added scale.
Mr Looney also said he was "encouraged" by the major's direction and that he was "focused on the job at hand".
BP announced plans to become a net-zero emitter by 2050 when Mr Looney took up the reins a year ago.
The Irishman insisted BP's strategy was "increasingly being understood and embraced" and was not too aggressive.
"The last thing investors would want us to do is start changing our mind," Mr Looney said, adding: "We're a transitioning company. Our ambition is to become a net zero company but it won't happen overnight.
"We're not yet green but we're greening. We're committed because it's the right thing to do for the world.
"It is also a tremendous business opportunity which will deliver long-term shareholder value."
Mr Looney also addressed concerns about BP's ability to generate the cash flow required to beef up its renewables portfolio from its "engine room" hydrocarbons division.
Production from that side of the business is expected to drop by 40% over the next decade.
Mr Looney said BP expected to grow its Ebitda over the next few years as it "high grades" its portfolio and enhances margins.
He said BP continued to deliver major oil and gas projects, with four coming on stream last year, including Ghazeer in Oman, Vorlich in the UK and KG D6 R-cluster in India.
The CEO said BP would sustain global production out to 2025 and that the company would drive value through near-field projects.
"We can do with more with less," Mr Looney said, adding that BP would divest low-margin assets.
But he said BP was not in a rush and would not sell if it can't get the right price.
The UK North Sea is one of BP's eight core oil and gas regions, said Murray Auchincloss, chief financial officer.
Mr Looney also spoke about BP's near-20% stake in Russian exploration and production firm Rosneft and its impact on the firm's net-zero ambitions.
Rosneft intends to push ahead with a major project in the Arctic capable of exporting 100 million tonnes of oil a year.
BP's boss said the facts about Rosneft were "surprising", claiming the Russian company's greenhouse gas emissions intensity was below that of many of the majors and highlighted its plans to deliver further improvements.
Mr Looney also said Rosneft produced low-cost barrels and generated significant dividends for BP.
Recommended for you

Sanjoy Sen: Next PM should ensure Britain can withstand future energy shocks