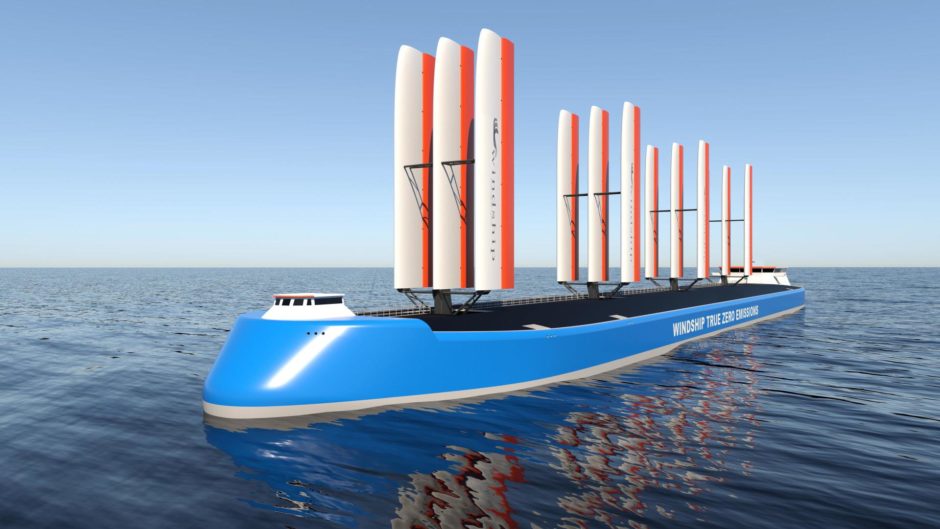 After at least two false starts over the past 50 years, a flotilla of low-carbon ship design options is garnering commercial interest.
There are now commitments to build vessels from prominent companies.
Windship Technology's radical propulsion system comprises triple-wing "hard" sails coupled with extensive solar arrays.
The UK company also claims to have developed a new diesel-electric ship drive system that eliminates carbon dioxide and nitrogen and sulphur oxide waste gases plus particulates. It has been branded as the true zero-emissions solution.
Windship Technology says the sails can develop a driving force greater than single-masted solutions of the same height.
Importantly, the 48m high, composite rig can be stowed on deck to aid port navigation and cargo handling.
The concept drawing depicts a radical, torpedo-like slim hull equipped with multiple masts. Windships Technology prefers to describe it as the "Tesla of the sea".
DNV will verify the design with a view to classifying emission reductions, safety and operability.
The company is now looking for commercial partners.
Meanwhile, another radical design has won the backing of the Norwegian-Swedish shipping company Wallenius Wilhelmsen.
The Oceanbird class Orcelle Wind is described as a wind-powered "pure car and truck carrier" that will be capable of delivering up to 90% reduced emissions compared with current diesel/diesel-electric shipping.
"Since 2008, we have been able to reduce CO2 intensity by 33%, which is a significant step," said Craig Jasienski, CEO.
"But the journey towards zero emissions requires great strides forward and we believe the Orcelle Wind is one of them."
Orcelle Wind is likely to have an overall car capacity of 7,000 vehicles, the ability to carry heavy machinery and breakbulk cargo, a length of around 220m and breadth of 40m, and a speed of 10-12 knots under sail that can be increased with the supplemental power system.
The French tyre maker Michelin has agreed to ship some of its products using two large sail-powered cargo ships being developed compatriot Neoline.
Tyres will be shipped from Michelin's facilities in Halifax, Nova Scotia to Saint-Nazaire, France as soon as Neoline's vessels enter service in 2023.
Michelin is seeking to decarbonise its logistics supply chains as part of its commitment to zero-carbon emissions by 2050.
The 136m long sisters will have a cargo capacity of 500 cars and 280 containers.
With 4,200 sq.m sail area and engine assist, Neoline claims it can achieve a speed of at least 11 knots to sustain its bi-weekly service schedule commitment while also achieving verified bunker fuel savings.
Under its original strategic schedule, the company had expected its first Neoliner completed and at sea late this year.
Now it could be 2023 at the earliest.