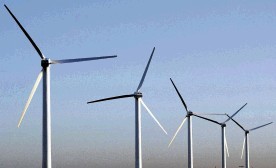 Scottish Water proposes to build an estimated 70 wind turbines at their sites in the north of Scotland in a bid to save cash and cut its carbon footprint.
The water utility aims to generate 10% of its own power by 2015 – double the present level of renewable energy from its sites across Scotland.
It has earmarked 23 sites in the Western Isles, Skye, Orkney as well as in north and west Scotland.
About 70 or so 5kw machines are being discussed in exploratory talks with planning departments in council areas across the north and west.
A Scottish Water spokes-man said: "There are 23 sites on islands – Uist, Lewis, Skye and Orkney and north and west Scotland.
"Water and waste water treatment are energy intensive and energy is our single biggest cost as a business."
The biggest windfarm would be a planned 10 generators at a treatment plant at Holm Farm, near Iolaire Memorial, outside Stornoway on Lewis.
Some 31 wind turbines are proposed for the Western Isles with Scottish Water considering a set of three 5kw machines at each of eight locations on Lewis, North Uist, Benbecula and South Uist.
The Western Isles turbines would be more than 50ft high though the other locations may have machines more than 66ft.
On Skye locations at Teangue, Portree, Elgol, Waternish and Dunvegan are under consideration as well as three turbines mooted for Rassay. Other sites include water and sewerage works at Castletown, Ullapool and Argyll.
Recommended for you

ScotWind – Who's in the running with the results due imminently?