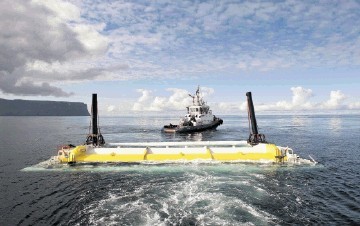 The European Marine Energy Centre (Emec) in Orkney said yesterday it was to help develop a renewables technology test site in Taiwan.
The move was announced at the inaugural Asian Wave and Tidal Energy Conference on South Korea's Jeju Island.
Emec commercial director Richard Morris said a memorandum of understanding had been signed between the north isles facility, National Taiwan Ocean University (NTOU), Taiwan's Industrial Technology Research Institute (Itri) and Orkney-based environmental consultant Aquatera.
The new partnership strengthens Emec's links with Asia, having already signed agreements with the Ocean Energy Association of Japan, Ocean University of China, and Incheon Metropolitan City in South Korea over the past year.
Mr Morris said: "Emec is very pleased to be supporting Taiwan in its move towards utilising marine renewable energy. The building of a demonstration site to further the excellent work being done by Itri and NTOU is part of the increasing amount of consulting work that Emec is undertaking."
Emec was established as a wave and tidal-energy test centre in 2003 with about £30million of funding from the Scottish Government, Orkney Islands Council, Highlands and Islands Enterprise (HIE), Carbon Trust, Scottish Enterprise, UK Government and European Union.
Mr Morris said: "The fact that Scotland is already exporting its unrivalled expertise demonstrates that the initial public investment is paying off."
Welcoming the Taiwan tie-up, First Minister Alex Salmond said: "Scotland is leading the way in the development of renewable-energy technology and agreements such as this show that the skills and knowledge of our engineers and companies are in demand across the globe as the world moves to a low-carbon future."
Meanwhile, Trident Energy is to use port facilities at Kishorn for sea trials of its wave-energy technology.
The Essex company said yesterday it had signed a lease, initially for one year, for the Wester Ross site.
HIE chief executive Alex Paterson said: "This leasing agreement . . . is a real vote of confidence in the port's capabilities, the local skills and workforce and its prime location as a base for servicing the renewables market."
Highland Council planning and development director Stuart Black said Kishorn had the potential to be a key economic driver for the west coast as it was in its heyday back in the 1970s.