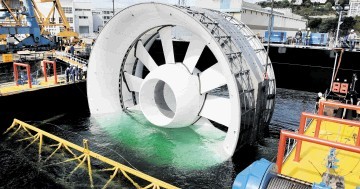 A blue chip French naval defence and energy group has announced plans to take control of tidal energy firm OpenHydro.
DCNS, which already holds 11% in tidal turbine developer OpenHydro, is to increase its holding to 59.7% by buying shares off existing shareholders and increasing the capital in the firm.
It said its ambition is to achieve annual sales of at least 1 billion Euros (£839million) by 2025 in the tidal energy market.
OpenHydro, which has been testing its "open hole" turbine in waters off Orkney, will retain its team and its brand.
DCNS' move follows fellow blue chip brands Rolls Royce, Siemens, Alstom and ABB taking stakes in ocean energy firms in recent years.
Siemens owns Marine Current Turbines, which has an office in Inverness, Rolls Royce owns Bristol-based Tidal Generation Limited (TGL), Alstom has 40% equity in Inverness-based AWS Ocean Energy and ABB is an investor in Edinburgh's Aquamarine Power.
DCNS said it estimated the worldwide tidal energy market represented an exploitable power of at least 90 Gigawatts – the equivalent of 60 nuclear reactors.
James Ives, chief executive of OpenHydro, which was founded in 2004 and is based out of Dublin, said: "The acquisition of OpenHydro by DCNS bears witness to the remarkable work accomplished by our team since 2004 and to the confidence of DCNS in our future.
"DCNS brings us deep knowledge of the marine environment, its industrial experience and the resources necessary for our development.
"We are proud and excited to continue our entrepreneurial adventure as part of one of the world's leading groups."
OpenHydro has 90 staff and is currently working with EDF on the installation of turbines at Paimpol-Brehat (Brittany) and with SSE Renewables to install turbines in the Pentland Firth off Scotland as well as in North America.
It was the first firm to deploy a tidal turbine at the European Marine Energy Centre (EMEC) off Orkney and the first to connect to and generate electricity from tidal streams onto the UK National Grid.
It has ongoing projects planned in the US, Canada, France, Ireland, Scotland and the UK's Channel Islands.
Recommended for you

ScotWind – Who's in the running with the results due imminently?