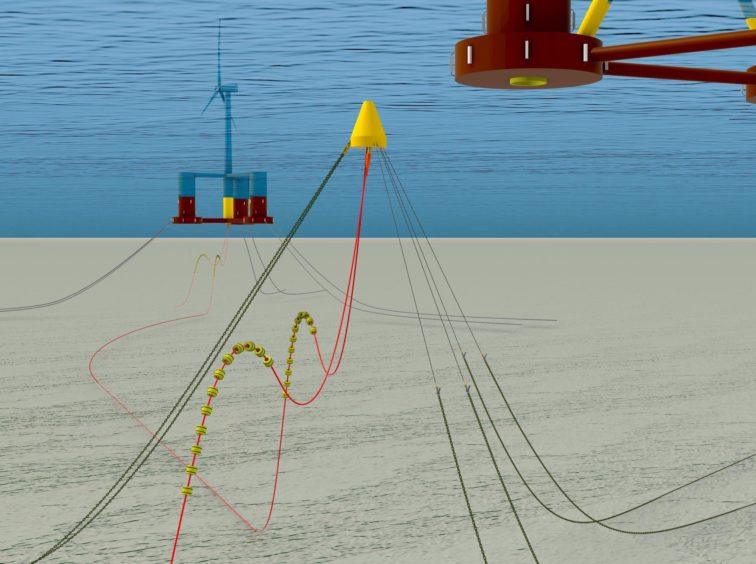 A north-east concept design and product development company has developed a new integrated solution which could accelerate the deployment of floating offshore wind.
SBT Energy's Disconnectable Turret for Renewables (DTR) combines spread and single point mooring to achieve "sizable" cost and time savings, when compared to current methods.
It enables "quick connection, disconnection and reconnection" of both mooring lines and power cables on floating structures and can be used on "most semi-submersibles, spars or barges".
The DTR is the logical enabler for floating wind to bring down the levelised cost of energy, said SBT Energy.
The firm, which has a base in Aberdeen, said the solution is "central" to its future growth ambitions.
SBT Energy's products are the culmination of over five years of research and technical development that have evolved from roots in developing low cost, unmanned production systems for offshore oil and gas.
The "highly-skilled, professional and experienced team" is located across Britain and is headed up by directors Ewan Neilson, Malcolm Bowie and David McPherson.
Mr Neilson said: "Aberdeen has a long history as an entrepreneurial city and it has a proven track record as a place which can adapt, just as it did at the advent of the oil industry.
"That pre-existing willingness to step up to new environmental challenges will be crucial throughout the changes we are seeing in the offshore renewable energy sector as will embracing the fact that automation is proceeding at pace, fired by the dual factors of energy transition and the Covid-19 pandemic."
He added: "Against that backdrop, SBT Energy is driven to innovate with technologies which offer scalable offshore housings which enable equipment to be placed exactly where and when it is needed and DTR is the latest product of that journey and is a game changer for the floating wind industry, offering huge export opportunities."