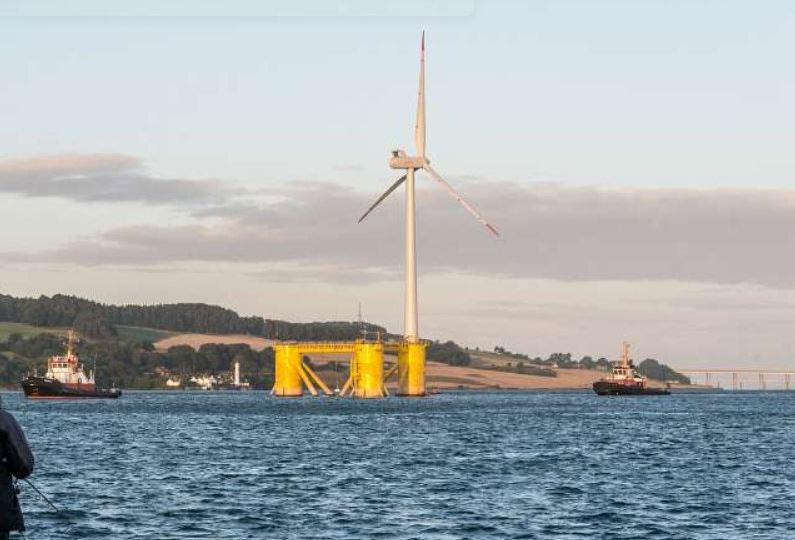 The Dolphyn project, due to become the world's first floating green hydrogen development off Aberdeen, has moved its schedule to get to commercial deployment more quickly.
Developer Environmental Resources Management (ERM) confirmed to Energy Voice that it has now "moved away" from its first stage concept, a small 2MW prototype, instead planning to kick-off with a "full-scale" 10MW unit.
As a result, the final investment decision (FID) for the first phase has moved from this year to the end of 2022.
ERM said the progression to a 10MW unit means they will be looking to get to a commercial development of between 100-300MW "up to two years earlier than previously planned".
The London-headquartered multinational consultancy previously said it is targeting a 10-turbine 100MW project as early as 2030, though the location for that later phase is still to be decided.
However, the initial 10MW unit for the Dolphyn green hydrogen scheme remains set for Aberdeen, using a similar design to the Kincardine floating offshore wind farm currently being installed.
ERM revealed last year to Energy Voice its plans to situate the pioneering project around 15km off the coast, with potential to greatly upscale in future years.
Since then the UK Government has outlined plans to vastly increase offshore wind capacity in the UK.
The Dolphyn green hydrogen plans have received warm praise from Sir Ian Wood, founder of Opportunity North East, which is behind a planned Energy Transition Zone in the city.
Dolphyn aims to produce green hydrogen for use in transport, and later even homes.
Earlier this week Aberdeen City Council, who have also praised the ERM plans, invited joint venture partners on a £215million green hydrogen production plant for the region.