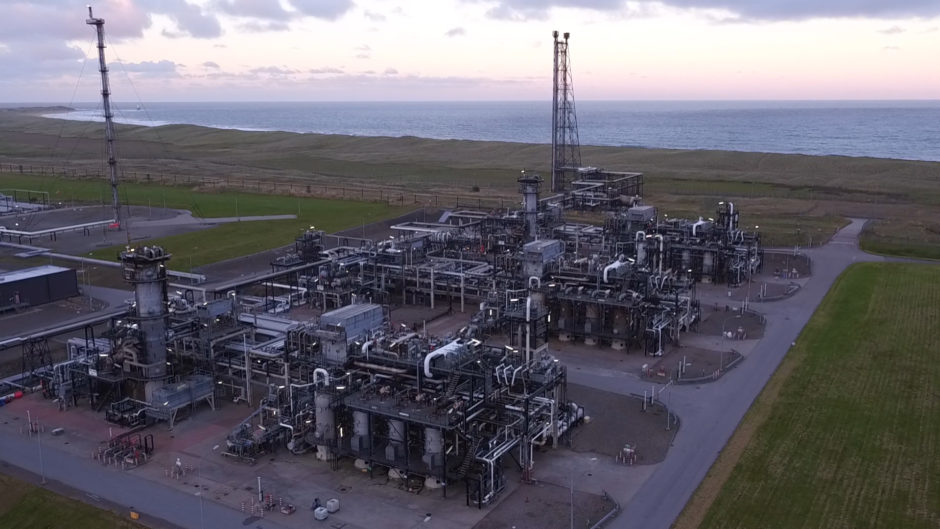 Scottish decarbonisation group North East Carbon Capture Utilisation and Storage (NECCUS) has appointed a renewables heavyweight as its new chief executive.
Ronnie Quinn takes up the role at a crucial time for the industry alliance as it drives efforts to ensure Scotland is among the UK's first tranche of carbon capture and storage (CCS) clusters.
The Scottish Cluster, of which NECCUS is a leading member, recently submitted a bid to the Department for Business, Energy and Industrial Strategy (BEIS), the government department in charge of choosing which two projects will initially receive backing.
Mr Quinn will succeed interim CEO, Mike Smith, who joined NECCUS soon after its inception in 2019.
Since then he has grown the alliance of industry, government and academics from a handful of members to more than 50.
The pair will work together to ensure a smooth handover, before Mr Quinn takes over the reins completely in the autumn.
Described as a "well-known figure" in the renewables sector, the appointment means Mr Quinn will leave his current role as an advisor to Norwegian Energy Partners.
He has previously held top positions at Crown Estate Scotland (CES), the government body behind ScotWind, and the Scottish Council for Development and Industry.
Mr Quinn said: "Since I finished my last full time role with CES I've been approached by a number of people with things I could do, but this is something I wanted to do. I was delighted to be given the opportunity by the board of NECCUS to pick up from where Mike has left off and hats off to him for what he has achieved.
"I'm picking up the baton at an incredibly exciting time and I'm really looking forward to the opportunity, not just for myself but for the industry in Scotland in the months and years ahead on this journey to net zero."
On his initial aims for the industry group, he added: "We're looking to expand NECCUS' membership to include more industries in Scotland that emit CO2 and are interested in decarbonising.
"Key to everything we do will be delivery; getting projects off the ground and building up that momentum that will reduce the environmental impact of industry north of the border.
"There's a fantastic opportunity here. By safeguarding existing jobs and creating new ones we have the chance to tell a brilliant story – that's something we should all be excited about."
In its 10 Point Plan, released last year, the UK Government pledged to establish two industrial CCS clusters by the mid-2020s, rising to four by 2030.
To support this, it set up a £1 billion infrastructure fund to give industry the "certainty" to deploy CCS at "pace and scale".
It is estimated the carbon storage industry could support up to 50,000 jobs in the UK by 2030.
Scotland is one of a number of regions vying to be one of the first two government approved clusters.
At the heart of its plans is the Acorn CCS project at the St Fergus gas plant near Peterhead.
Acorn is being developed by Storegga, through its Pale Blue Dot subsidiary, Harbour Energy and Shell, and is among the most advanced initiatives of its kind in the UK.
In the past few months it has signed agreements with some of Scotland's largest emitters, including ExxonMobil and Ineos, to try and secure its position as part of the CCS vanguard.
Mr Quinn said: "The Scottish Cluster has submitted a really strong bid to BEIS that focuses on the geological advantages that Scotland has and the ability to scale up the project.
"There really is a race here to respond to the climate emergency and to be first out of the blocks. Hopefully we'll hear how the submission has landed with BEIS later on this summer."
On top of its involvement in the Scottish Cluster, NECCUS is currently leading the Scottish Net Zero Roadmap project (SNZR).
The UK Government-funded initiative is drawing up a blueprint for decarbonising about 30 key industrial sites along Scotland's east coast, stretching from Aberdeenshire to Lothian.
In parallel to this, NECCUS is developing a Scottish Net Zero Infrastructure project (SNZI) alongside industrial partners, including SSE Thermal, National Grid and Banchory's Pale Blue Dot.
The programme is designed to overcome the technical challenges faced by low carbon technology developers.
Alan James, chairman of NECCUS, said: "We are delighted to be able to welcome Ronnie Quinn as our new CEO. The wealth of experience he brings in helping energy markets and industrial sectors to evolve and grow will be vital in supporting NECCUS get to the next stage of its development.
"The NECCUS board and membership would like to thank Mike Smith for his passion and drive in starting NECUS and helping it to become the focus for industrial decarbonisation across Scotland. We wish him well in his future endeavours."
Recommended for you

Allowing its engineers to 'shine' gives Wood the edge in the CCS market