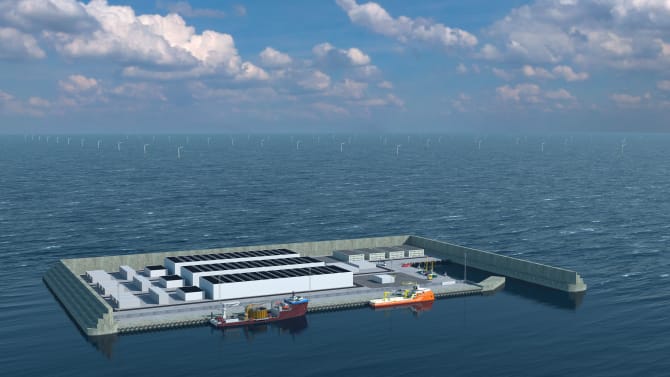 Orsted and ATP's plan to bid for a "bold and visionary" man-made energy island in the North Sea have taken a step forward.
The consortium have announced plans to bring in three world-leading industrial construction experts to support the scheme.
The Danish North Sea energy island aims to enable the development of renewable energy at an "unprecedented scale", marking a "step change" in delivering on carbon reduction targets.
To support their bid, Danish giant Orsted and ATP, Denmark's largest institutional investor, are now bringing in Aarsleff, Bouygues, and Van Oord.
The three companies bring extensive design and engineering competences, as well as vast experience from complex offshore construction projects around the globe, Orsted said.
The move has "laid the foundation" for a successful delivery of the 120,000-square-meter artificial island, which will be a hub for renewables, creating local jobs.
Earlier this year, the Danish government secured political backing for the 210 billion krone construction project.
The North Sea Energy island is expected to be tendered in 2023, at which point Orsted and ATP intend to submit a bid.
Rasmus Errboe, Orsted's Europe boss, said: "Orsted has 30 years of experience in working with highly specialised engineering companies in offshore wind. Aarsleff, Bouygues and Van Oord comprise the strongest possible team to support our bid for the Danish North Sea energy island.
"We are prepared to accelerate the green transition in a new and innovative way which will contribute to the transformation of the Danish energy system and benefit the Danish society whilst providing green solutions for Denmark and our European neighbours.
"We have selected these world-class suppliers based on their outstanding credentials within sustainability and innovation to make sure that the energy island is constructed with respect for the unique environment in the North Sea and with the highest degree of technical and commercial competences."
Aarsleff, the Danish specialist in large-scale projects within infrastructure, climate change adaption, and energy, will be leading the construction work.
French firm Bouygues Travaux Publics, an affiliate of Bouygues Construction, will supply "world-leading" expertise in designing, building and operating large scale offshore constructions.
Meanwhile, Van Oord has experience in constructing artificial islands, combined with decades of knowledge in installation of offshore wind turbines, foundations, and cables.
On behalf of the contractors of the consortium, Jesper Kristian Jacobsen, chief executive of Per Aarsleff, added: "The establishment of an energy island in the North Sea is an innovative and groundbreaking project and an important step towards contributing to solving the climate challenges. The complementary expertise of Bouygues Travaux Publics, Van Oord, and Aarsleff within offshore work will make up a strong partnership, and we look forward to contributing to the project together with Orsted and ATP."
Recommended for you

TotalEnergies takes over operatorship of North Sea gas pipeline from Shell