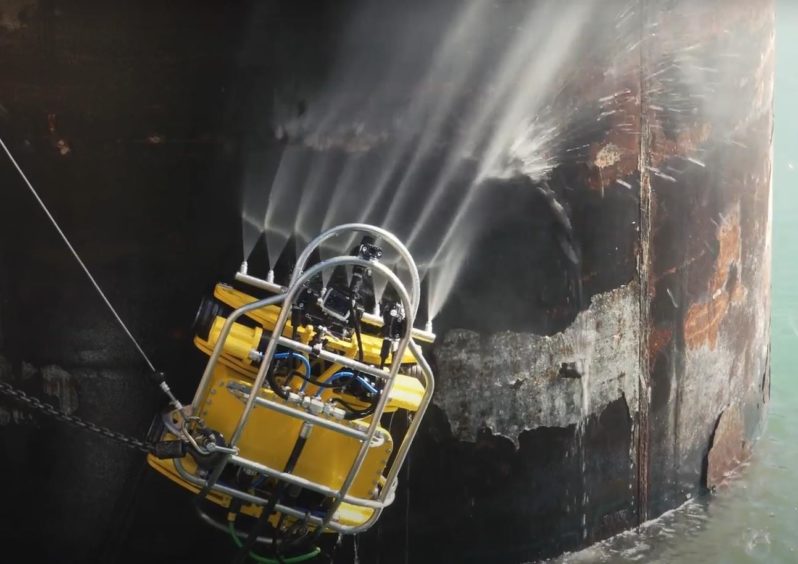 The global robotics market in the energy sector is expected to be worth more than £8 billion by 2050, according to a new report.
Research from the Offshore Renewable Energy (ORE) Catapult underlines the significance of accelerating the development of robotics and autonomous systems (RAS) to net zero.
With deployment of wind energy on course to boom in the coming years, the sector will open up a new "robotics frontier".
By the end of the decade, offshore RAS will be valued at £1.3bn, increasing to £3.5bn by 2050.
Meanwhile, declining production means the oil and gas' robotics market will peak at £5bn in 2030, before falling to £3.3bn by 2050.
Combined, the global energy automation sector will be worth around £8.3bn by the middle of the century.
Gavin Smart, head of analysis & insights at ORE Catapult, said: "The growth of the global energy market presents a remarkable opportunity for robotics and autonomous systems. This is not only the case in offshore renewables, a sector which continues to grow at pace, but also in oil and gas in the short to medium term.
"What is unique about the robotics market is the potential for cross-application technologies. It is likely that the solutions that will maximise performance, increase efficiency and improve safety will be adapted to work across multiple industries – inside and outside energy.
"As we continue to work towards achieving Net Zero, it is clear that robotics will play a key part. The opportunity this presents for the UK is significant – across the supply chain we can create jobs, upskill our energy workforce, build export potential and add value to our economy."
As it stands, the UK is targeting a seven-fold increase in offshore wind capacity by 2050.
That ambition generates the need for operations and maintenance (O&M) activity and with wind farms likely to be located in deeper, more remote waters, maintaining safety will be a significant challenge.
This is where the use of RAS can be of particular use for renewables operators.
By accelerating and investing in the development of advanced technologies, robots can be used to handle routine upkeep tasks, mitigating risks for humans.
They can also be used to pre-empt maintenance, which will extend the life of components and turbines, driving down waste.
According to ORE Catapult's report, the global wind O&M market, both onshore and offshore, will grow from £51bn in 2030 to £120bn in 2050.
While robotics will take a share of this prize, technologies will combine with data and digital solutions and other forms of O&M to increase that market share.
Mr Smart added: "Cutting-edge research and development into robotic technologies for offshore wind is already taking place, right here in the UK. We are building a position as a pioneer and expert in this field, which opens up a multi-billion pound domestic and export market over the coming decades.
"ORE Catapult is driving forward the pace of investment and R&D, and by defining the size of the prize on offer, we want to encourage the UK supply chain to capitalise on the opportunities. This is an incredibly exciting space to be in right now."
While the UK offshore wind O&M market for robotics is expected to more than double in size, the export potential is even greater.
The report said is on course to grow by 410% in the coming decades, increasing from £235m in 2030 to £1.2bn in 2050.
And with that comes a huge jobs boost, with RAS expected to create a 200,000 net jobs boost across all UK sectors by 2038.
That will offset many of the oil and gas jobs lost as production naturally declines in years to come.
As the oil capital of Europe, Aberdeen will be in line for many of those job cuts, but Mr Smart says there are crossover skills that will allow people to transition.
He said: "For the last few decades, Aberdeen's location has proven to be a huge advantage when it comes to the offshore oil and gas market. There's no reason why that trend can't continue.
"We're already seeing a lot of engagement with existing O&M providers who are moving over from hydrocarbons into renewables. ORE Catapult has people up in Aberdeen and that's their focus.
"There's definitely companies that have solutions that are already deployed in oil and gas who are beginning to understand the differences between the two markets and are working out how to go from servicing one or two rigs to hundreds of turbines."