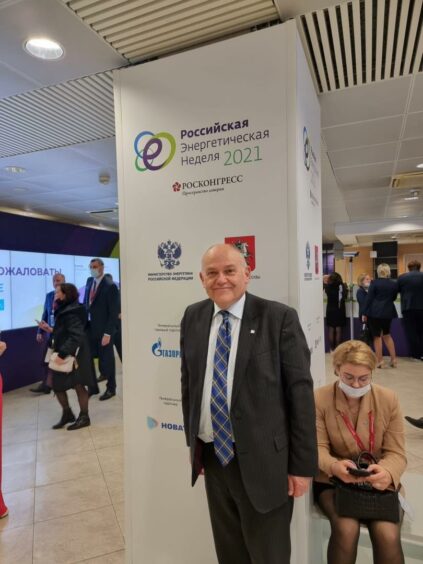 Aberdeen's Lord Provost showcased the city's efforts to be at the front of the energy transition on the global stage earlier this week.
Barney Crockett, who is also president of the World Energy Cities Partnership (WECP), has been in Moscow for the prestigious Russian Energy Week conference.
During the international forum, leaders discussed Russia's position in the global energy market and how the Eurasian country can help industry to overcome challenges.
In attendance at the event was Russian President Vladimir Putin, who used his speech to alleviate Europe's gas woes by pledging to free up supplies.
He also revealed Russia is aiming for climate neutrality by 2060.
Former BP chief executive Bob Dudley was also present at the conference.
Speaking from Moscow, Mr Crockett said: "It's been a very exciting few days from the point of view of Aberdeen. Russian Energy Week sets a lot of the agenda for world energy industries.
"It's allowed me to speak to a number of ministers and deputy ministers in the Russian Government about the future for energy and how Aberdeen can assist.
"I've been on the stage this morning to again foreground Aberdeen in terms of cities pushing for sustainable change – it's a great thing for the city that we're at the top table.
"Earlier on I was speaking alongside Mayor Sobyanin of Moscow and Bob Dudley, who's a great friend of Aberdeen. That shows you the kind of company that Aberdeen is keeping."
Several initiatives are on the go in Aberdeen, and in the north east more widely, to help the city transition from being Europe's oil and gas capital.
Work is ongoing to create an Energy Transition Zone, proposed by Sir Ian Wood, on the outskirts of the Granite City.
And many of the North Sea's largest companies are making significant renewables plays.
Up the coast, the Acorn carbon capture and storage (CCS) project at the St Fergus gas terminal is spearheading efforts to get the technology up and running in the UK.
Mr Crockett says there's a "huge amount of interest" in Aberdeen across the globe.
He said: "I think it's hard for Aberdonians to appreciate just how much interest there is in the city. I've been speaking to people from all over the world – from different parts of Africa, from the Middle East, from Azerbaijan – who are interested to know what Aberdeen is doing and the leading role we're playing.
"The likes of the World Energy Council and Mr Dudley are telling the rest of the world that Aberdeen is playing a lead and we should appreciate how strong that position is.
"Cities will be the forefront of energy change and I was able to say that, in Aberdeen, we've got the support of the population for energy transition, despite the fact it's a traditional oil and gas city."