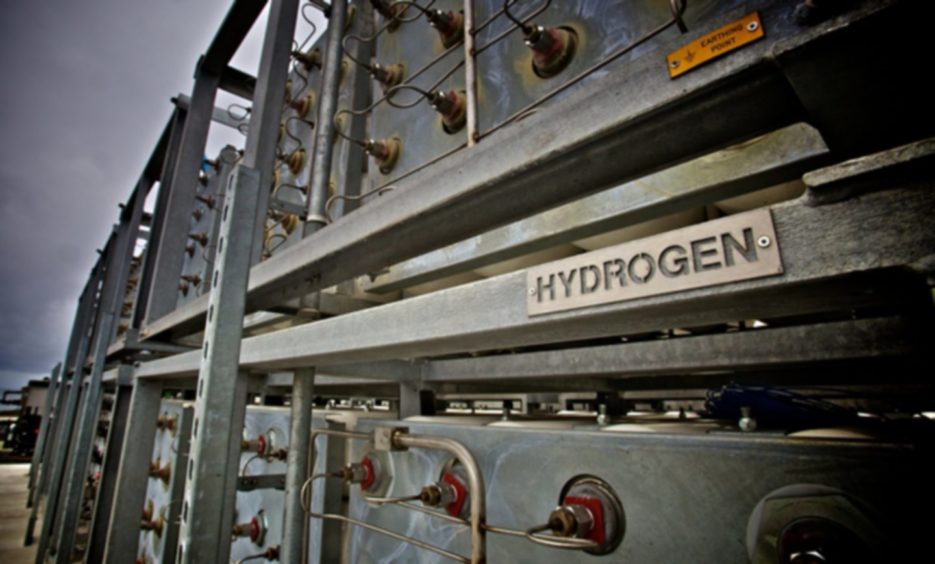 Aberdeen has been awarded £15m as part of a £100m Scottish Government package to advance the hydrogen economy, which could see the resource provide nearly a sixth of Scotland's energy needs by 2030.
The Scottish Government has published its draft Hydrogen Action Plan – a five-year roadmap that with ambitious plans to advance the use of hydrogen and supporting technologies.
Backed by more than £100 million of funding, the draft plan sets out the strategic approach the government will take alongside industry, with the goal of making Scotland "a leading nation" in the production of "reliable, competitive and sustainable" hydrogen.
The five-year capital investment programme will focus on supporting regional renewable hydrogen production hubs and renewable hydrogen projects.
The first tranche of investment will be a £10 million Hydrogen Innovation Fund, launched in 2022, focused on technology and innovation, as well as cost reduction.
Separately, the Scottish Government's Energy Transition Fund is being expanded, with up to £75 million now on offer.
£15 million of this is earmarked for investment in an Aberdeen Hydrogen Hub which will develop on-the-ground infrastructure to support the growth of a hydrogen transport fleet and the deployment of new applications across the north east.
Additional investment will be made to support the continuing advancement of the technology, including £100,000 to support collaborative industry-academia projects through the Energy Technology Partnership, £150,000 for German-Scottish hydrogen research collaboration, and public and private sector joint funding for a study to explore options for the export of hydrogen from Scotland to Germany.
The government's 2020 Hydrogen Policy Statement set an ambition for 5 gigawatts (GW) of renewable (green) and low-carbon (blue) hydrogen power within the next ten years – and 25 GW by 2045.
Michael Matheson, Scotland's net zero & energy secretary, hailed hydrogen as a key solution for the decarbonisation of economies "across the world".
Speaking at COP26, he said: "Scotland's businesses are well positioned to help support the emerging hydrogen economy.
"Established sectors such as oil and gas, subsea, maritime, onshore and offshore renewables, petrochemicals and aerospace contain an absolute wealth of skills – hydrogen represents an attractive diversification opportunity for all of them.
"As the nation continues its energy transition, the developing hydrogen economy will require a strong domestic supply chain, including engineering, manufacturing and consultancy."
He added: "In our action plan we have made clear that we will encourage and support the development of regional hydrogen hubs across Scotland.
"It will also provide strategic support to the development of the hubs, combining production, storage and distribution with multiple end use applications.
"This sector coupling approach that we intend to take, provides us with a massive economic opportunity. And that's why I'm pleased to announce today that we will provide over £15m of funding from the Energy Transition Fund to help to support the establishment of Aberdeen's hydrogen hub."
Also in attendance at the COP26 event was Jenny Laing, Aberdeen City Council's Labour leader, who underlined the importance of the north-east's oil and gas heritage to hydrogen.
She said: "For over 50 years, since the first North Sea oil and gas came ashore in Aberdeen, we have been at the forefront of the global energy sector.
"In our local authority, where many people's lives and livelihoods are strongly linked to what happens offshore, it comes to no surprise to me that industry has responded so rapidly, with characteristic innovation to the challenges and opportunities arising from the drive to net zero."
Councillor Laing added: "Aberdeen has enormous advantages has in becoming a world class hydrogen cluster. We have the expertise from decades of offshore and subsea engineering, as well as offshore wind production, both floating and fixed.
"We also have access to the city region and the South Harbour development, which will be key as we move forward. Given these strengths, I firmly believe Aberdeen is an unrivalled location for spearheading the UK's transition to net zero."
Helen Melone, Senior Policy Manager at Scottish Renewables, said: "We are pleased to see the publication today of The Scottish Government's draft Hydrogen Action Plan, which sets out the necessary steps that will need to be taken over the next five years to develop Scotland's emerging hydrogen economy. We are delighted to see the strong emphasis on the export potential of hydrogen, and that a strong hydrogen sector in Scotland could support up to 300,000 jobs across all skill levels by 2045. It is also encouraging to see that the £100 million funding announced is targeted at renewable hydrogen projects.
"Scotland is in a unique position as it has an abundance of renewable onshore and offshore wind resource that can be harnessed to produce green hydrogen and supply both Scotland and the rest of the UK.
"This announcement today sets out strong support and direction for Scottish industry considering moving into the hydrogen arena. We welcome it and look forward to the publication of the full plan."
The consultation on the draft Hydrogen Action Plan will now run until 19 January 2022.
Recommended for you

Scottish energy transition AI firm raises $10m as part of growth push