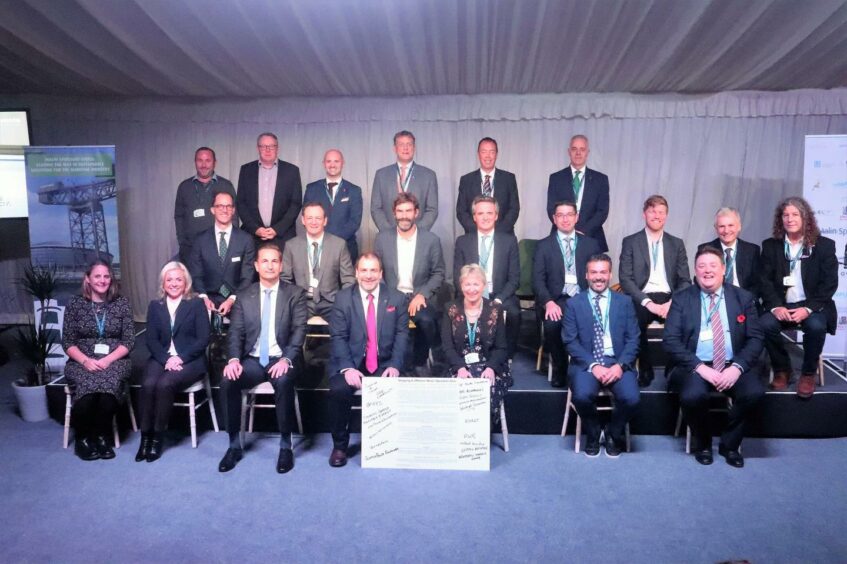 'Operation Zero' bid to accelerate the decarbonisation of North Sea operations and maintenance (O&M) vessels could generate more than £4 billion for UK firms.
The initiative, launched by the UK Department for Transport (DfT) and the Offshore Renewable Energy (ORE) Catapult, aims to see zero-emission vessels deployed at North Sea offshore windfarms by 2025.
In tandem, Operation Zero would see the development of onshore infrastructure solutions needed to upscale and maintain their operation.
Maritime Minister Robert Courts MP announced the initiative during an event at COP26 in Glasgow, alongside a coalition of 28 founding signatories from across the offshore wind supply chain.
Founders include representatives from the UK, Germany, Sweden, Denmark, the Netherlands and Belgium, and industry majors Siemens Gamesa, Orsted, RWE, Vattenfall, ScottishPower Renewables, Equinor, ABP, Lloyds Register, Bibby Marine, North Star Renewables and ORE Catapult.
The scheme is informed by research undertaken by ORE Catapult and the Workboat Association, who have developed a roadmap outlining a route to the decarbonisation of North Sea offshore wind O&M.
The research suggests that the industry will build as many as 1,400 new vessels between now and 2050 for O&M work alone, including over 300 service offshore vessels (SOVs).
Fleet growth is needed to ensure the expansion of European offshore wind from 25 gigawatts (GW) today to 400GW by 2050, the authors said, 100GW of which will lie in UK waters.
Increasing the pace of decarbonisation would result in a reduction in carbon emissions of 1.2 milion tonnes of CO2 equivalent per year compared with a 'business as usual' scenario.
Meanwhile, UK and North Sea shipyards could also see work in the development, design, build and operation of these vessels. Capturing 25% of the European O&M vessel-building market could generate revenue of between £2.2 to £4.2 billion for UK firms out to 2050, and support 1,400 direct and 2,500 indirect jobs, ORE Catapult said.
While the announcement made no specific references to the technologies that might power these vessels, previous government R&D funding has been awarded to projects to develop offshore vessel charging points and vessels that would run on green hydrogen.
Mr Courts said: "We're bringing together 28 leading companies in the maritime and offshore wind sectors to drive forward our goal of having zero emission vessels in the North Sea by 2025 and demonstrate the value that industry collaboration can have on decarbonising entire industries."
ORE Catapult CEO Andrew Jamieson added that the offshore wind sector is committed to a rapid transition to net-zero that Operation Zero provides "a fantastic springboard for broader maritime decarbonisation."
"Right through the supply chain, we'll see growth and job creation opportunities that will aid the transition from the maritime diesel fuels of today to the zero-emission, high-value technologies and skills of tomorrow, with much of this growth taking place in coastal communities where it is most needed," he continued.
"Innovation is essential if we are to achieve this vision. Operation Zero provides a solid foundation for the future of collaborative innovation between industry partners, and with the support of government."
Recommended for you

Aberdeenshire robotics firm plans 'worker robots' for offshore wind