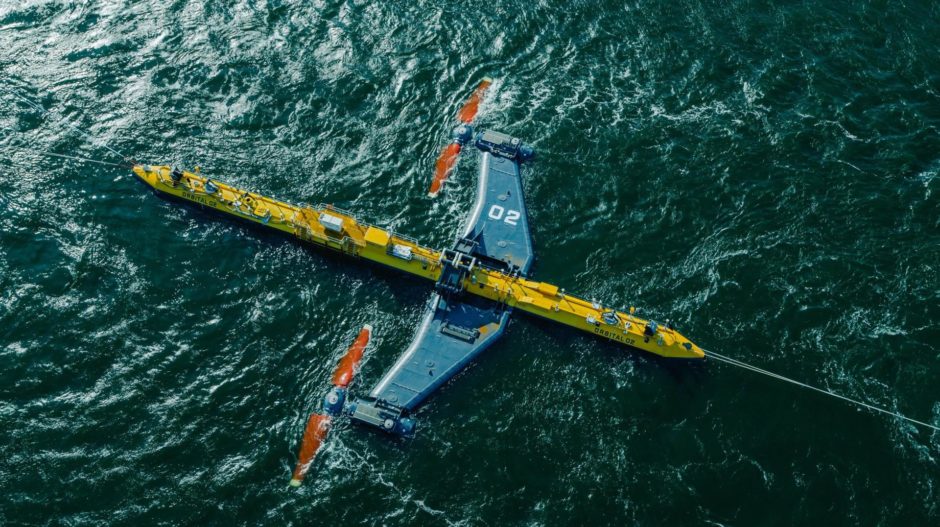 An Orkney tidal power firm has gained the backing of energy services giant TechnipFMC to scale up its technology.
TechnipFMC has signed a memorandum of understanding with Orbital Marine Power and will become a shareholder in the firm, which operates the world's most powerful tidal turbine off the Orkney Islands.
Orbital Marine said the partnership is a "game-changer" for the company and the wider sector, which will see TechnipFMC use its industrialisation capabilities to scale up the technology and deliver the first "commercial scale" floating tidal field.
TechnipFMC said, because of its predictability (as opposed to intermittent offshore wind), tidal energy offers a reliable and consistent form of renewable energy.
It added that tidal has the ability to make a cost-effective contribution to net zero transition "around the world at a utility scale".
Luana Duffe, executive vice president of New Energy Ventures at TechnipFMC, said: "We are very excited to collaborate with Orbital in the tidal energy market.
"By combining our system integration capabilities with their technical expertise and differentiated turbine technology, we will scale-up our combined offering to deliver more renewable energy to the market."
Orbital Marine said a "significant investment" has been made by TechnipFMC, though further details on that and the size of the shareholding taken have not been disclosed.
It added that there has not been any change of control at Orbital Marine following the deal.
The Scottish firm's chief executive Andrew Scott said: "This TechnipFMC investment is a major endorsement of the tidal energy solution we have developed at Orbital Marine Power, and we are hugely excited to be working with such a leading company in the global offshore energy sector on the commercial roll out of our vision for tidal energy."
In July, Orbital Marine Power, which also has an office in Edinburgh, announced that its O2 turbine, the most powerful tidal power turbine in the world, had started generating electricity via the grid in Orkney.
The two mega-watt unit is expected to operate in the waters of the Fall of Warness over the next 15 years, capable of meeting the energy demands of around 2,000 homes.
Orbital Marine said the project, manufactured and launched in Dundee earlier in the year, is the result of "leading product development in the UK" with 80% of the turbine delivered by suppliers based in-country.
The firm's next phase will be targeting multi-MW arrays of turbines to "bring long term employment to coastal communities".
There is currently one gigawatt of consented tidal sites in the UK.
Recommended for you

Royal Navy, BP, Ørsted execs among appointees to new Global Underwater Hub board