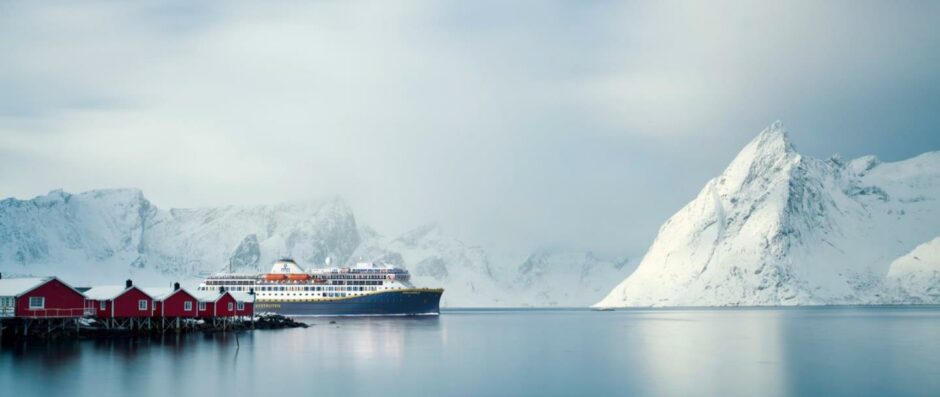 Late last year, a new Norwegian passenger vessel entered service, beginning with a coastal passage from Bergen to Kirkenes, which is located close to Norway's northern frontier with Russia.
Havila Capella is the first of a new breed of ships owned by Havila Kystruten that will serve this bread-and-butter coastal service.
What separates the Capella from other Norwegian coastal express vessels is that her NOx emissions are claimed to be 90% less; plus the hybrid gas-electric propulsion system can chop CO2 emissions by 25%.
She is also equipped with the largest marine batteries pack so far fitted to a ship.
Norwegian Electric Systems (NES) built the pack, plus the hybrid gas-electric propulsion system and smart control systems for the entire vessel.
The battery pack weighs 86 tonnes and has a capacity of 6,100 kilowatt hours, more than twice as much as the largest battery ferries built to date and also pioneered in Norway.
NES also supplied the integrated navigation system Raven INS, generators, complete switchboard system, transformers, frequency converters for thruster engines and the ship's energy management system.
Further, the Capella's propulsion system has been prepared for future retrofitting of hydrogen and fuel cell technology.
The project is called FreeCO2AST and is also supported by research institutions Sintef Ocean and Protech.
Havila Kystruten says the massive battery pack will allow Capella to sail four hours with zero emissions, and can utilise onshore power supply from hydropower to charge the battery complex.
This allows Havila Kystruten to meet the requirements for emission-free sailing in the Norwegian world heritage fjords several years before the government's requirements come into force.
This is an all-Norwegian enterprise with HAV Group subsidiary companies HAV Design, HAV Hydrogen, Norwegian Electric Systems and Norwegian Greentech all contributing.
The idea of installing battery packs on ships has been around for some years, indeed Havila has played a significant role in the introduction of battery packs to LNG-fuelled offshore support vessels.
Roughly a year ago, the company won a three-year contract to provide two supply boats – Havila Foresight and Havila Charisma – for use by Equinor, which is now a world leader in the pursuit of low carbon energy.
Just last month, another Norwegian company, Kongsberg, announced the start-up of the world's first "full-scale, full-size" hydrogen fuel cell drivetrain for ships. Moreover, the full-size test-rig built onshore near Bergen demonstrated that the technology is maturing. The system will now undergo a four-month testing regime for validation.
This test-bed system is the third and final section of the EU-funded project "HySeas," which has been running since 2013. The eight-year effort has involved participants from Scotland (Caledonian Maritime Assets – CMAL), Denmark, France, Germany, Sweden and England.
The testing cycle is based on the power demands for a ferry on a real route between Kirkwall and Shapinsay, Orkney.
The findings will be provided to the design team at currently troubled ferry operator CMAL, which plans to complete the hydrogen-powered design for a small 16-car ropax ferry in March this year.
"Orkney will be the first practical usage of this technology while the Norwegian maritime cluster has the opportunity develop our own pilots and projects here in Norway," said Egil Haugsdal, CEO of Kongsberg Maritime.
And there's more news on the maritime hydrogen front as the Norwegian Government via the EFTA Surveillance Authority (ESA) has awarded $25 million to a project to build two zero-emission hydrogen-powered vessels for operation in the offshore industry and along Norway's western coast.
The zero-emission shipping company Topeka, part of the Wilhelmsen group, said that all the approvals were received for the funding and that it is prepared to move forward with the project as soon as the hydrogen infrastructure and supply is ready for the maritime industry. They expect to have their vessels in service from 2024.
"With ESA's approval, our hydrogen-powered zero-emission vessels are one step closer to reality," said Topeka CEO Steinar Madsen. "Now we are awaiting hydrogen to become available as a vessel fuel."
The initiative has been dubbed "Topeka: base to base" and the company says the vessels will be the first of their kind to enter commercial service.
The Topeka vessels will be built to zero-emissions standards and will marry a combination of 1,000 kWh battery capacity and a three-megawatt PEM (proton exchange membrane) hydrogen fuel cell.
Supply agreements are in place for the liquid hydrogen and the company is only waiting for the supply to become available in sufficient quantity to support the operations.
The plans call for the sisterships to sail on a fixed schedule along the Norwegian western coast.
They will provide transport service between offshore supply bases, carrying coastwise customer cargo between Stavanger, Haugesund, Bergen, and Kristiansund, and containerised liquid hydrogen to bunkering hubs along the same route.
They are expected to play an important role in Norway's drive to build maritime hydrogen infrastructure.
The bunkering hubs twill notably be able to LH2 (liquid hydrogen) -powered vessels including ferries and seagoing tonnage.
Together with Aurora, the liquid hydrogen factory at Mongstad in Norway, the aim is to create "a full LH2 infrastructure and commercial ecosystem", while at the same time removing yearly some 25 000 trucks from Norway's roads.
The awarding of the funding was first announced nearly a year ago. It will be coming from Enova SF, a special fund owned by the Norwegian Ministry of Climate and Environment.
Its purpose is to contribute to reduced greenhouse gas emissions by developing energy and climate technology and a strengthened security of supply.
Because the Topeka project exceeds the maximum aid allowed for a single project under the parameters for the fund, it needed to be reviewed and approved by ESA.
Recommended for you

Shipping Line: French chocolatier orders radical sailing cargo ship