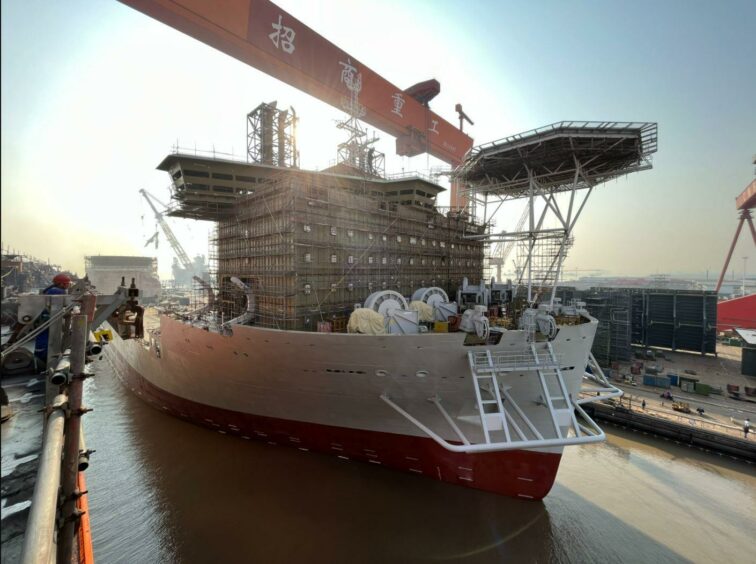 Maritime services group Jan De Nul has launched its newest and largest offshore installation vessel, Les Alizés, ahead of delivery later this year.
The Luxembourg-headquartered group heralded an "important milestone" with the launch of Les Alizés at the CMHI Haimen shipyard in China, where it is currently under construction.
The launch started on 2 January by flooding the dry dock where the vessel has been built. Once afloat, it was moored alongside the adjacent quay wall.
An official launching ceremony followed on 5 January at the CMHI yard, with shipyard management and Jan De Nul Group representatives in attendance.
Built to service the offshore renewables and decommissioning markets, the 237metre Les Alizés will be the largest heavy lift vessel (HLV) in Jan De Nul's fleet, capable of installing "XXL offshore wind components" in floating conditions and with ultra-low emissions, the group says.
Ordered in 2019, Jan De Nul said it had made further refinements to the vessel's systems. The ship will be outfitted with a 5,000-tonne capacity crane – one of the largest in its class – which features a universal quick connector (UQC) developed by Huisman.
An innovative motion-compensated electrical pile gripper will also be installed, with an integrated guidance and survey system, enabling safe and efficient installation of newer offshore turbine monopiles with "pin-point accuracy."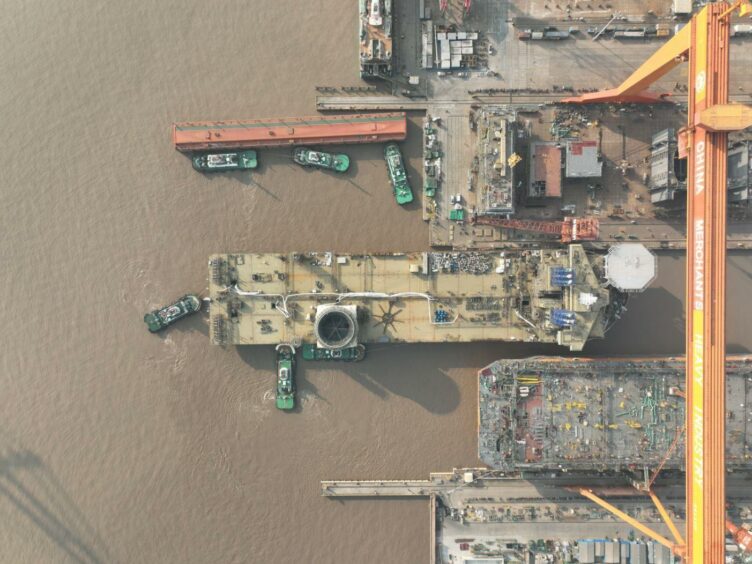 Other facilities include a tailor-made, fully automated monopile handling system. This consists of a set of cradles, a skidding system and an upending hinge to handle and install XXL monopiles. Jan De Nul said the system makes the craft "ideally suited to work in challenging weather conditions and high sea states."
The group's head of newbuilding, Jan Van De Velde said the combination of technologies "perfectly fit into our strategy of having no manual deck intervention during installation."
"We stay one step ahead in offering the renewables industry a safe and efficient one-stop-shop installation solution," he added.
The final phase of the vessel's construction will now begin, including sea trials. Les Alizés is due for delivery in the second half of 2022, in time for its first assignment in Germany, constructing the Gode Wind 3 and Borkum Riffgrund 3 offshore wind farms.
There it will be tasked with transporting and installing 107 monopile foundations for the offshore wind major Ørsted.
Jan De Nul's director of offshore Philippe Hutse described progress on Les Alizes as "well on track," and said the group looked forward to its delivery later in the year.
"Together with our Offshore Jack-Up Installation Vessel Voltaire, which is also under construction in China, we will have the perfect set of offshore installation vessels that will be able to install current and future generations of offshore wind farms. This is how we offer our customers the most efficient installation solutions and results," he added.
HLV outlook
Les Alizés will hit the market as demand for HLVs is expected to rise, potentially reaching a bottleneck around the middle of the decade.
In its latest Decommissioning Insight report, OGUK noted increasing interaction between the decommissioning lift market and that of other offshore activities, specifically offshore wind installation, potentially leading to constraints in the market.
Both sectors require HLVs to either remove or install infrastructure – particularly smaller oil and gas assets in the southern North Sea – and as project calendars fill up, competition is likely to increase.
Rystad Energy made similar forecasts last year, warning of an "undersupply of installation vessels by the mid-2020s" for the offshore wind market.
At the time, it also warned that there were only four vessels in operation that were capable of handling the largest, next-generation turbines reaching the market in 2021.
The post-2025 bottleneck is likely to spur new specialised vessel orders – such as Jan De Nul's – as well as the conversion of HLVs built for oil and gas activity.
Recommended for you

Damen orders crew change vessels and DEME Orion takes shape