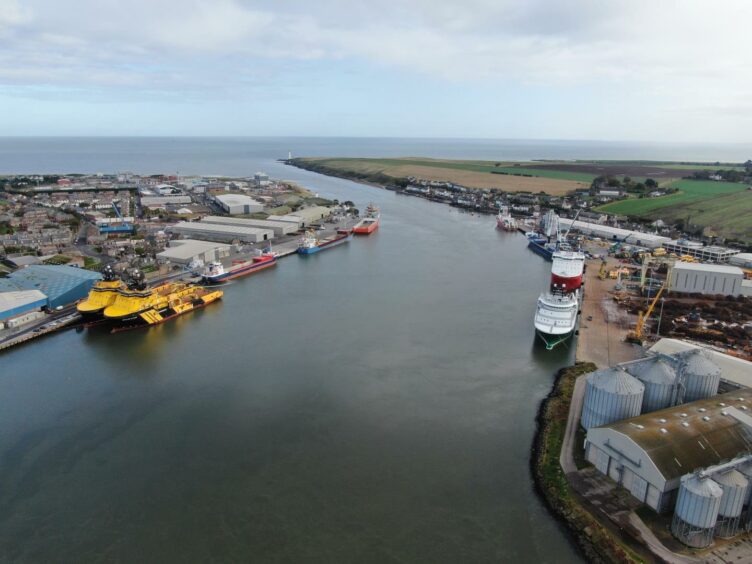 Developers of the Inch Cape wind farm off the coast of Angus have picked Montrose Port as its future operations and maintenance base, should the project secure government backing.
Inch Cape, comprised of 72 turbines located around 9 miles off the Angus coast, is being co-developed by Edinburgh-based Red Rock Power and ESB.
The developers say the selection of Montrose port will unlock an initial 18-month, £5.2 million investment programme and help secure more than 50 long-term skilled jobs during its lifetime.
Initial work on the infrastructure upgrade will begin in 2023 with the construction of offices and warehouse at the port's South Quay.
A dedicated pontoon for crew transfer vessels travelling to and from the Inch Cape site will also be constructed along with the installation of dock side cranes and a communications mast, with the latest technologies in vessel fuelling being considered as an additional investment.
Works are expected to be complete and the base operational by early 2025 to coincide with the commissioning of the first turbines at the offshore wind farm.
Once fully operational, the Montrose base will support up to 56 direct, full-time equivalent, long-term jobs including turbine technicians, asset managers and office staff.
Following the news, Cabinet Secretary for Rural Affairs and Islands and local MSP, Mairi Gougeon, met with senior figures from Inch Cape and Montrose Port on Friday to discuss the plans.
Ms Gougeon said: "This award highlights the direct long-term economic benefits which are flowing into local communities across Scotland as a result of our fast-growing offshore wind industry. The Inch Cape Offshore Wind Farm, which will provide sustainable career-long jobs for people in Angus, is a great example of this."
She added that Montrose Port had played an "important role" in supporting Scotland's offshore energy sector so far, and the new investment would help it become "a major facility" in the net zero economy.
Inch Cape offshore wind farm project director Adam Ezzamel said new infrastructure would ensure the port was a "key element" of the development.
"We plan to utilise the very latest technology to reduce carbon emissions from vessels to operational base designs, operating and maintaining some of the biggest wind turbines in the world deployed in water depths of up to 57 metres.
"If we succeed in the current Contracts for Difference round, Inch Cape will deliver millions of pounds of new investment, not just in Montrose but, with other key suppliers and facilities in Scotland and beyond, supporting local communities and a transition to a greener economy," he added."
First consented in 2008 under the Crown Estate's third auction round, the project has applied for long-term support under the government's latest Contracts for Difference (CfD) allocation, the results of which are expected this summer.
The generating capacity of Inch Cape has not been finalised, but last summer the developers were granted permission to exceed the initial 1,000MW cap, paving the way to deploy turbines larger than 9.5MW.
Electricity from Inch Cape will be transmitted via subsea cables to an existing National Grid connection at the former Cockenzie power station in East Lothian.
Changes in consents in 2019 also allowed turbine numbers to be reduced from an initial 110 to a maximum of 72. Its owners say fewer, higher capacity turbines will allow the project to reduce construction time and costs and minimise potential environmental impacts.