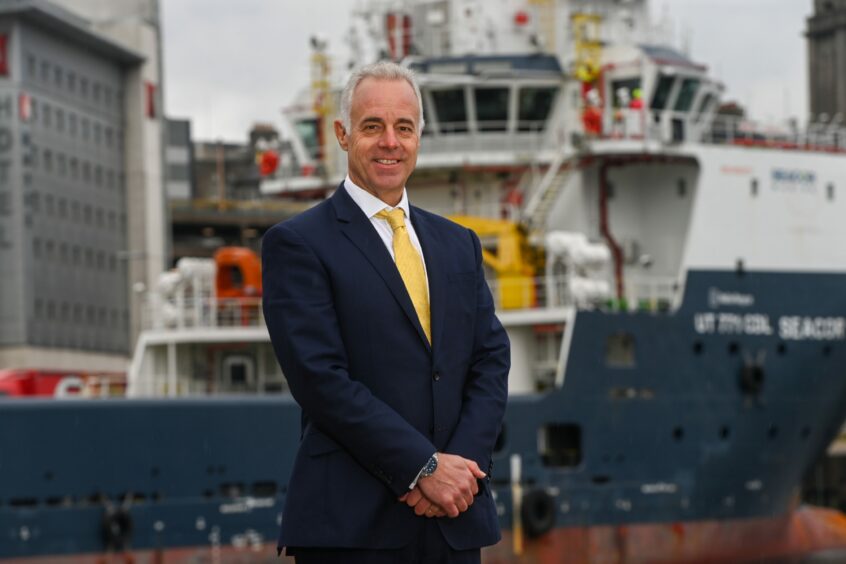 As Scottish ports vie for green freeport status, Aberdeen Harbour's boss has warned the north-east could fail to "realise its full potential" if not chosen.
Bob Sanguinetti, chief executive of Aberdeen Harbour Board (AHB), said the port and partners are awaiting full details of the concept before committing.
However, he said "we are focused on getting it if we apply for it" adding: "If we don't get it, Aberdeen and north-east Scotland will not realise its full potential on the road to energy transition and net zero."
Two Scottish freeports will be named this summer after a £52 million deal was struck between Holyrood and Westminster this week.
After months of talks the administrations agreed to call them "green freeports".
Eight English freeports were given the green light at the March 2021 Budget, with the aim of creating zones offering tax incentives and other drivers to boost economic activity and job creation.
Critics warned delays north of the border meant Scottish ports risked losing out to southern rivals.
Freeports are not wholly popular. The Scottish Greens have criticised the plans and the SNP, with whom they govern, claim the schemes are associated with low wages, crime and unfair work practices.
Scottish Finance Secretary Kate Forbes defended the deal and insisted the SNP has worked to ensure investing firms will have to meet net-zero environmental targets.
Mr Sanguinetti said: "Whether it is tax incentives,  customs arrangements or easing back on planning permission and so on – it creates an environment where new businesses can flourish more quickly.
"In so doing you attract inward investment, you create highly-skilled jobs and you generate further prosperity for the region."
There are three or four strong potential bids in Scotland for two ports.
Mr Sanguinetti said Aberdeen offered unique knowledge and experience other ports couldn't match.
"We have the expertise in Aberdeen Harbour that I would argue no one else in the UK has when it comes supporting the offshore sector.
"All those skills are transferable from oil and gas to renewables.
"All the expertise that resides in the hinterland and the extensive supply chain network that Aberdeen and Aberdeenshire has does not exist anywhere else."
He added: "Conferring green freeport status, should we apply for it, will consolidate that transition and reinforce Aberdeen's key role as Europe's principle energy hub."
He said the harbour was working closely with ETZ Ltd which is leading a plan to establish a 30-40ha industrial park, known as the Energy Transition Zone, alongside the new £350m South Harbour expansion.
The group, chaired by billionaire Sir Ian Wood, aims to support the region's shift from reliance on oil and gas to make the area a hub for renewables and Aberdeen  "the net-zero energy capital of Europe".
Mr Sanguinetti pointed to the scale of the harbour board's new development at Nigg Bay and the surrounding industrial estates as areas for the expansion of port activity, including handling cargo.
"In partnership with the Energy Transition Zone there is access to more space there for high-end manufacturing and assembly.
"And we mustn't forget, not much further from Aberdeen Harbour North and South we have Altens."
AHB's plan for a freeport also includes Aberdeen City and Aberdeenshire councils, the airport and Peterhead.
The partners have said a joint bid could create up to 22,000 jobs.
But on a visit to Fife this week Prime Minister Boris Johnson hinted strongly in favour of a rival bid by Forth Ports and aerospace giant Babcock.
Meanwhile, a consortium led by Port of Cromarty Firth, Roy MacGregor's Global Energy Group and Port of Inverness are keen to take part.
Port of Cromarty Firth chief executive Bob Buskie said: "The firth is uniquely positioned at the heart of a host of multi-billion-pound renewables projects.
"These in turn would create quality jobs and business opportunities across the Highlands and the whole of Scotland on a level not seen since the oil boom of the 1970s."
Up to nine port groups have submitted "notes of interest" including Dundee, Glasgow, Montrose, Orkney, Shetland and Cairnryan.
Recommended for you

UK Government to move 200 energy department civil servants to Aberdeen