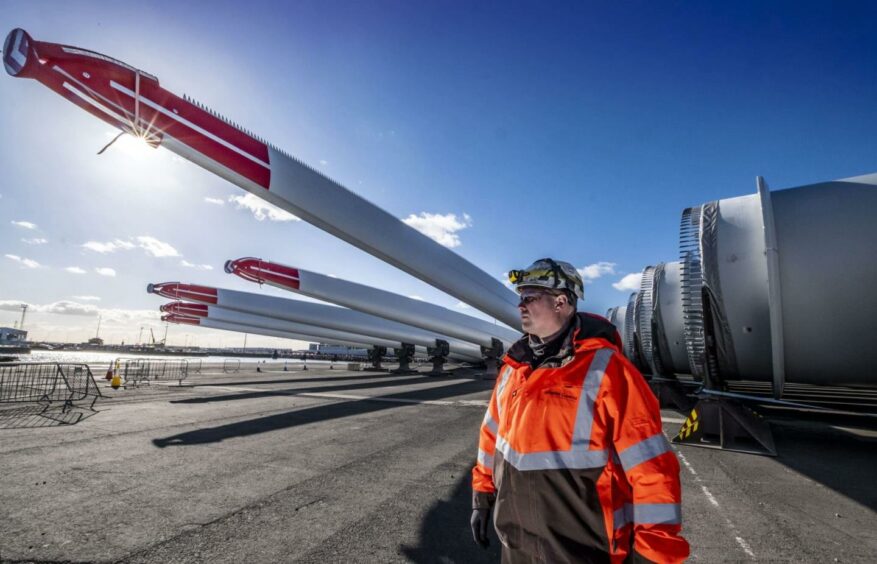 Delays at the 450 megawatt (MW) wind project off the Fife coast have pushed its completion date back to 2024, the developers said.
Developed by Ireland's ESB and EDF Renewables, the Neart na Gaoithe (NnG) offshore wind farm is currently under construction around 9 miles off the East Neuk of Fife.
Originally slated for completion in 2023, in an update on Monday the developers said that its supply chains had been "impacted by the Covid-19 pandemic both in Europe and in the Far East", resulting in a delay to commissioning.
While turbines will begin generating power in 2023, final commissioning has been pushed back until the following year. The site's new Contract for Difference (CfD) start date is June 2024.
It follows reports that key contractor Saipem is late in delivering the 54 steel jackets – the structures on which the wind turbines sit – for the project, exacerbating delays.
Saipem is reportedly poised to make a huge loss on the contract, potentially exceeding its original value of some €550m (£460m), and prompting the company to issue a surprise profit warning in early February in which it said accounts for 2021 were expected to show a loss of more than one-third of the company's equity.
According to this week's update, these 54 jackets will now be installed in 2023, prior to installation of the turbines.
Despite these delays, this week's update noted that 72 turbine tower sections and 36 blades are due to travel up the River Tay by barge in March and be brought alongside the new DunEco Quay.
Tower sections will then be assembled into 24, 90-metre turbine towers and stored at the Port of Dundee alongside turbine blades, prior to their shipment to site.
Over the next few months, a total of 162 tower sections, 162 blades and 54 nacelles will also be delivered from turbine manufacturer Siemens Gamesa.
Meanwhile, NnG's two offshore substations will be commissioned and energised with further drilling, piling and grouting work on the foundations carried out, the developers said.
The first turbines will be operational in time for the wind farm to begin generating power in 2023, with completion scheduled for 2024.
Onshore, the project's substation will be completed in 2022 as well as a new operations and maintenance building at Eyemouth, in the Scottish Borders.
NnG Project Director Matthias Haag said: "This is a major milestone for NnG as we see the first components delivered to our marine hub at the Port of Dundee. While the pandemic has impacted our timescales, we remain as committed as ever to working with the Scottish supply chain to get these turbines in the water and start generating clean, green electricity for the UK."
David Webster, director of energy at Forth Ports, which owns the Port of Dundee, added: "This is what we have been working towards with our £40m investment in the Port of Dundee. The port is ready and we look forward to bringing the first NnG components over the quayside and to playing our part in Scotland's drive towards net zero carbon emissions."