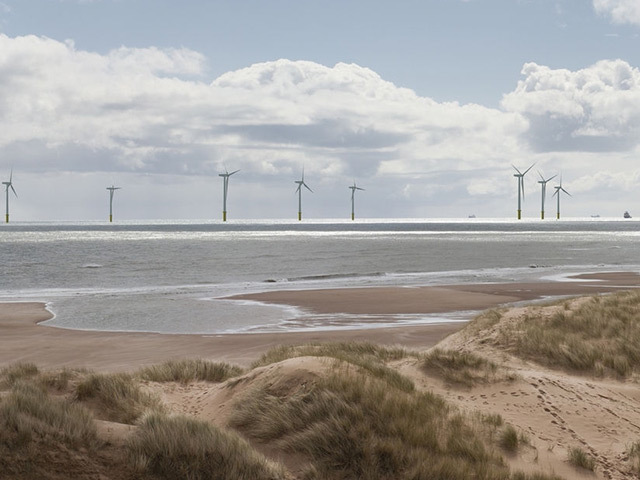 A date has been set for a court hearing on Donald Trump's objections to a major wind energy development off the coast of Aberdeen.
The Scottish Government has backed the 11-turbine European Offshore Wind Deployment Centre (EOWDC), but the Trump Organisation lodged a legal challenge at the Court of Session in Edinburgh in May.
The US businessman has vowed to block the £230million scheme and wants judges to reverse the government decision.
It was confirmed yesterday that a petition for a judicial review from the Trump Organisation is due to be called at the court in Edinburgh for a fixed four-day hearing from November 12. Earlier this month, it emerged that Mr Trump, who is developing a £750million golf resort at Menie Estate in Aberdeenshire, also intends to use the courts to block plans for an onshore electricity substation. The building at Blackdog would allow energy generated from the turbine test centre to be fed into the National Grid.
George Sorial, executive vice-president of the Trump Organisation, said that, based on the level of local opposition, he expected another legal challenge if Aberdeenshire councillors grant planning permission for the substation.
In a writ lodged with the Court of Session in May, the Trump Organisation argued that the decision of Scottish ministers to approve the offshore development in March was in breach of human rights legislation.
Mr Trump had insisted that a full public inquiry should have been held into the plans and claimed he was denied a fair hearing.
The petition also claims that Aberdeen City Council and the Scottish Government have "financialinvolvement" in the EOWDC project.
However, the Scottish Government said it was not aware of any financial involvement with the scheme.
It is understood that the council's only involvement is through funding for one of the project partners, Aberdeen Renewable Energy Group.
One of the main backers of the scheme, Swedish energy giant Vattenfall, put its 75% stake in the project up for sale following a slump in profits.
Recommended for you

Hydrogen Blending: From the North Sea to the network and into UK homes