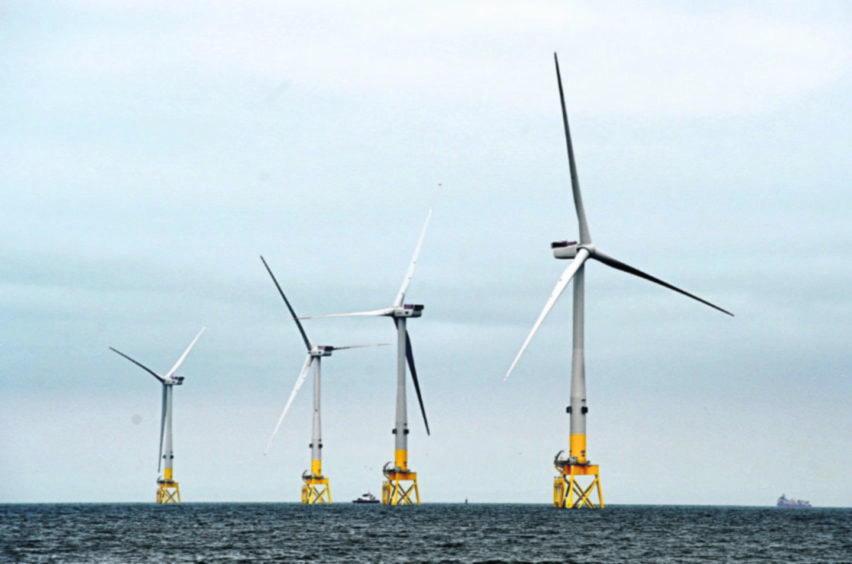 Scottish ministers are considering whether to increase the country's current offshore wind rollout targets.
As part of its recently published energy strategy, Holyrood pledged to consult on whether a greater ambition for turbine deployment by 2030 and 2045 should be set, and what that level should be.
Currently, the goal is to have at least 8 gigawatts (GW) of offshore wind in Scottish waters by 2030, as per 2020's Offshore Wind Policy Statement.
It is hoped that raising the bar will spur on developers, in a move that has been hailed as "bold, ambitious and potentially transformative" by key figures from within the renewables industry.
By 2030, government hopes to have more than 20 gigawatts (GW) of "additional low-cost renewable electricity generation capacity", both onshore and offshore.
A consultation will also be held to determine new targets for the rollout of solar, wave and tidal developments.
On hydrogen, ministers are planning for the low carbon fuel to provide 5GW of Scotland's energy needs by the end of the decade, rising to 25GW by 2045.
Scottish Renewables' director of policy, Morag Watson said: "The Scottish Government's draft Energy Strategy and Just Transition Plan are bold, ambitious and potentially transformative pieces of work, and are to be welcomed as another important piece of the net-zero puzzle.
"We are particularly encouraged by the government's commitment to consult on increasing our ambition for offshore wind power and setting targets for solar and tidal and wave energy generation.
"We must however remember that many barriers still stand in the way of our industry's continued development, and that we need strong action – and all renewable energy technology options on the table – as we develop the low-carbon energy system of the future.
"Finally, Scottish Renewables asked The Scottish Government to enhance export support for Scottish suppliers and are pleased to see a renewables export plan will be published in early 2023."
While oil and gas statements grabbed most of the headlines, the primary aim of the Scottish Government's new strategy is to detail how it plans to deliver a just transition to a low carbon energy system.
In the document, ministers underline the need to "maximise the use of Scottish manufactured components" in energy transition projects.
It is welcome pledge, though one that has been made countless times before, and a lack of hard and fast local content targets remains a point of concerns for workers and unions.
John MacAskill, global managing director of renewables at consultancy firm at ABL Group, said: "Certainly the opportunity of a just transition is there, but for that we need significant focus on supporting the development of a suitable supply chain. And this has got a patchy history in London as well as Edinburgh."
Recommended for you

Floating wind solutions from an unlikely ally: offshore drilling