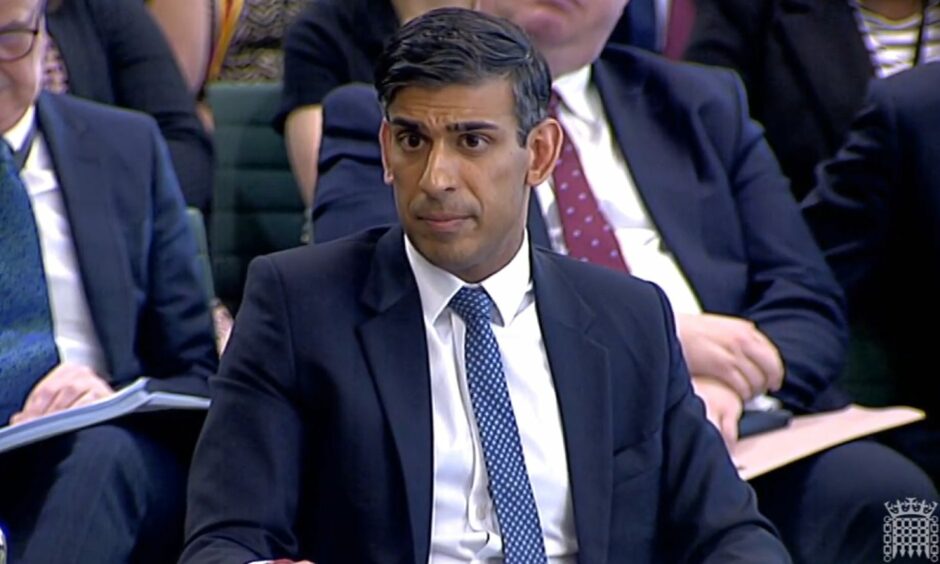 Rishi Sunak is under pressure to show his UK government will stick to its promises on tackling climate change, after a memo revealed officials' doubts about hitting a £11.6 billion ($14.7 billion) funding target.
The UK is falling "below the internal target trajectory," according to the memo drawn up by foreign, energy and environment officials, which was was first reported by the Guardian newspaper and later seen by Bloomberg. Meeting the climate finance pledge will be a "huge challenge," the officials wrote, and will require the government to scale back other humanitarian aid commitments.
In an emailed statement, a government spokesperson denied that the funding pledge "is being dropped" — wording that leaves apparent wiggle room between maintaining the target even as doubts emerge about the UK's likelihood of meeting it.
"We are delivering on that pledge," they said.
Sunak "absolutely" cares about climate change," his spokesman, Max Blain, told reporters at a regular briefing, adding that "it's inaccurate to claim that we're not committed to this target nor that we do not intend to meet it."
It comes at a dangerous time for Sunak just days after climate minister Zac Goldsmith quit with a dramatic broadside against Sunak's government. He accused the prime minister of being "uninterested" in climate policy, saying the UK has "withdrawn our leadership on climate and nature" on his watch.
For Sunak, climate change and the environment — as in so many other areas of policy — are an awkward balancing act because of the internal dynamics of his governing Conservative Party. The prime minister knows it is an important issue especially for younger voters, but climate skepticism runs strong among right-wing Tories who frequently make trouble for the leader.
That dynamic is complicated by the legacy of Sunak's predecessor Boris Johnson, who saw climate change action as a way to rebuild Britain's reputation on the world stage after the chaos of Brexit.
On Wednesday, senior Conservatives including Johnson ally and former COP26 President Alok Sharma called on Sunak to stick to the pledge. "It was a proud moment for the UK" when Johnson announced it, he said on Twitter.
To be sure, the stakes are far more than just political. Global temperatures reached a record high this week, and the UK recorded its hottest June.
The UK's Climate Change Committee said last week officials are moving too slowly in making changes needed to hit the country's carbon emissions targets.
Responding to the reports, UK climate campaigners said failing to meet the spending commitment would damage Britain's reputation as a climate negotiator and policy leader. "The government can either show they have the political will to do the right thing now, or prove those accusing them of indifference to the climate crisis absolutely correct," Rebecca Newsom, head of politics at Greenpeace UK, said in an emailed statement.
The memo "further undermines the UK's reputation as a strong leader on climate and nature, in the same week as the government's own climate watchdog found that commitments are going backwards," said Katie White, executive director of advocacy and campaigns at WWF.
Goldsmith said while Sunak is "insisting he isn't breaking his promise," the figures paint a different picture. The only way the pledge will be kept is if the next government in its first year allocates over 80% of all UK bilateral aid to climate, at the expense of humanitarian issues, he said on Twitter.
The aid budget is "deliberately phased over a number of years to enable it to flex given we know that there will be different circumstances each year," Blain, Sunak's spokesman, told reporters when asked about Goldsmith's tweet.
Recommended for you

Sunak pledges £1.6 billion to try to show COP28 he's on message