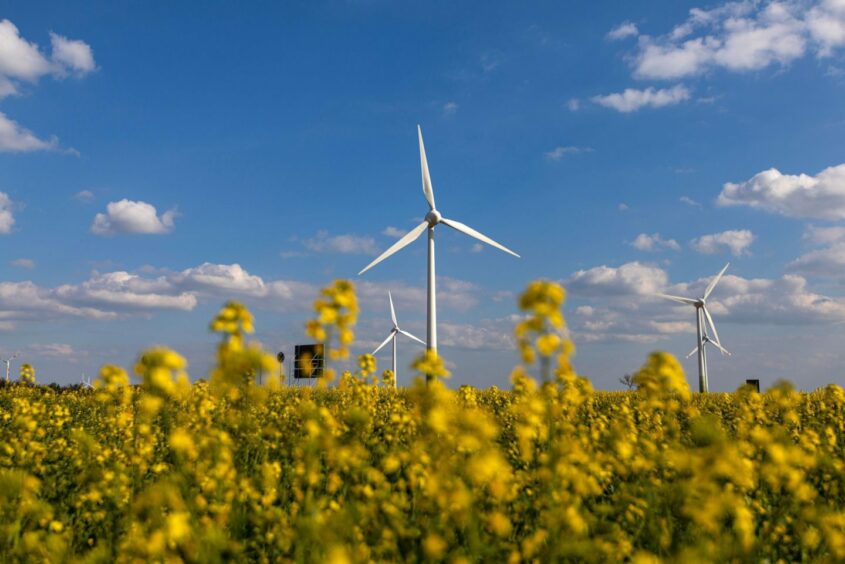 The Government should force developers of wind, solar and grid infrastructure to invest in local communities, a think tank has said.
A report by Onward found rural voters are more likely to support renewable energy projects in their local area if they come with community benefits attached.
Making community benefits obligatory for all new clean infrastructure projects would help the Government reach its targets for a net zero power system by 2035, which requires doubling onshore wind, quintupling solar power, and large grid infrastructure upgrades, it said.
The centre-right think tank argued for a new "green energy covenant" to guarantee investment for areas that host energy infrastructure.
It also recommended that the Government provide a £2 per megawatt hour rate for community benefit funds, with local leaders and chosen representatives deciding how the cash is allocated.
In this way, £3.7 billion could be invested in communities by 2035, according to Onward.
Polling carried out for the report by Public First and focus groups found that renewable infrastructure being built locally without any community benefits has +42 net support among rural voters.
This rises to +56 if a £250,000 per year community benefit fund is attached.
Jack Richardson, head of energy and climate at Onward, said: "We need to stop blocking development and instead tie it to local investment.
"Our new research shows that this approach has the backing of rural voters: over three-quarters think new projects should have community benefits attached, and nearly half want boards of local elected representatives and community leaders to decide how community benefits are spent."
Former Tory Cabinet minister Sir Simon Clarke said: "Onward's proposed green energy covenant is an important contribution to the growing campaign to lift the ban on onshore wind.
"We need to streamline the planning process and bring down barriers to growth. This report provides a way to build an enduring political consensus to do so."
Labour's shadow climate secretary Ed Miliband said: "People across the UK, from all political parties, support the need for more clean energy infrastructure, because they understand that getting on with the sprint to clean power is the only way to cut bills for good, create good jobs across the country, give us real energy security and tackle the climate crisis.
"To unlock this country's potential, we need to be builders not blockers.
"Everyone will benefit from the clean energy infrastructure we need, and a Labour Government will ensure that the communities that host it in the national interest will also benefit directly."
Recommended for you

Labour would speed up planning for major infrastructure, Reeves to say