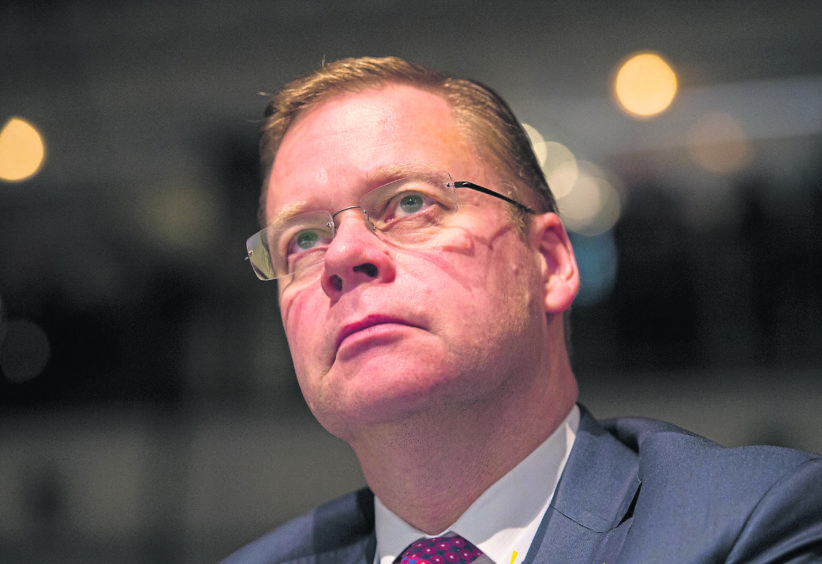 Former Centrica CEO Iain Conn speaks to Energy Voice about the opportunities presented by AI, and his thoughts on the latest from Centrica's E&P business, Spirit Energy.
The former chief executive of Centrica, Iain Conn, has joined the board of the UK-based AI tech company, Empirisys.
In a recent conversation with Energy Voice, Mr Conn said that the self-learning technology enables energy firms to "optimise in ways that you couldn't previously," improving safety and efficiency.
Artificial intelligence offers benefits to the energy transition, the former Centrica boss explained.
"AI allows you to Do everything from optimising Turbine blades of wind farms, micro optimising them and analysing weather cells as they're approaching in real-time and being able to predict how the weather system when it hits the wind farm will impact it," he said.
"Which means that you can be ready to readjust to optimise the amount of energy that you get out of that weather system."
Mr Conn held the top job at Centrica from 2015 to 2020, before this he was the group managing director and a member of the board at BP.
He held his job at the UK energy giant from 2004 to 2014.
Former Centrica boss 'proud' of Spirit Energy
As deadlines for the energy transition get closer and closer, "everyone's thinking about how they go on the journey" to net zero, Mr Conn said.
Spirit Energy is no exception, the form that Iain Conn once had a hand in due to his work as Centrica's chief executive, has been looking to focus on transitional work following poor financial results in recent years.
The former Centrica boss explained: "I'm very proud of what we created in Spirit."
He added: "We built a platform at Centrica to deal with the energy transition, turning the company back towards the customer and focusing a lot on services and solutions and optimising energy."
In addition to his recent work on the board of Empirisys, Mr Conn works as a senior advisor for the world's largest alternative asset manager, Blackstone in 2021.
His work for the firm centres around energy and sustainability investing, where he draws upon his background in the energy sector.
'Energy transition is happening more slowly than it needs to'
The industry expert says that the global journey to net zero is "happening more slowly than it needs to be."
Despite companies all over the world looking to cut carbon emissions to fall in line with net zero goals, the planet is lagging, says the former sustainability senior advisor.
"The world is spending about a trillion dollars a year on it, and it needs to be spending 3 trillion a year.
"So that's an issue we're not dealing with some of the highest emitting issues such as unabated coal-fired generation in Asia, we're not dealing adequately with hard to abate industrial sectors such as cement and metal, we're not dealing with the decarbonization of heat."
This is in line with industry research, earlier this year the chief executive of the Energy Industries Council, Stuart Broadley, said that the UK will not meet its net zero ambitions.
Mr Broadley said this a month before the publication of its annual "Survive and Thrive" report which detailed a lack of "consistent and profitable" work in clean energy.
Political issues, combined with focus being given to the wrong areas of society have led to the world slipping behind its Paris Agreement targets, Mr Conn explained.
He said: "When you add process heating that like I've just described to space heating and cooling, it's 50% of energy-related greenhouse gases, yet we're spending all of our time talking about cars.
"Then some of the other issues get in the way, politics, geopolitics particularly.
"You only have to look at Russia-Ukraine, US-China, Iran-Saudi to understand that the geopolitical issues are going to interfere with the speed of the transition."
Empirisys chair is an 'experienced amateur' when it comes to AI
The new Empirisys chair would not describe himself as an expert in artificial intelligence and machine learning, however, he has experience in IT.
Mr Conn told Energy Voice: "At BP, I had responsibility for IT, for the whole company for three years and at Centrica, I got very involved in Understanding the architecture of the IT systems and the end-to-end processes and how we would optimise them.
"At Centrica, we built an unstructured data lake from which we could then extract all forms of customer information and operational information."
Looking at his background working with computers, Iain Conn says that he is a "an experienced amateur" when it comes to artificial intelligence, an area that has been growing in prominence in recent years.
Iain Conn is 'very passionate about industrial safety'
In addition to the services AI can provide in renewable energy, Empirisys' work looks to improve safety procedures in the energy sector, this is one of the reasons the former Centrica boss was interested in joining the firm.
He said: "I'm very passionate about industrial safety and particularly process safety, leadership and operational performance."
Iain Conn says that this passion came from his work on the board of UK supermajor BP and his time at the helm of the British Gas parent company.
"I was one of the architects of BP's operating management system, which is the whole safety and operations management system that BP applies," Mr Conn explained, "When I went to Centrica, I led a transformation of safety because what I found was in need of some considerable improvement, in my view."
'Building the company and the team'
As Mr Conn assumes the role of chairman at the AI tech company he is "looking forward" to helping the leadership team with its strategy and performance.
As chair of the firm, he said he will be "building the company and the team, obviously building an effective board."
Mr Conn will be "making sure the strategies are refined and focused and delivering real impact."
Overall, the former Centrica boss is confident in Empirisys and is showing enthusiasm for his new role.
He concluded: "It's a great group of people and they have got very good propositions. I think they're going to be differentiated in this area."
Recommended for you

Former Awilco Drilling CEO Jon Bryce joins rig firm Dolphin