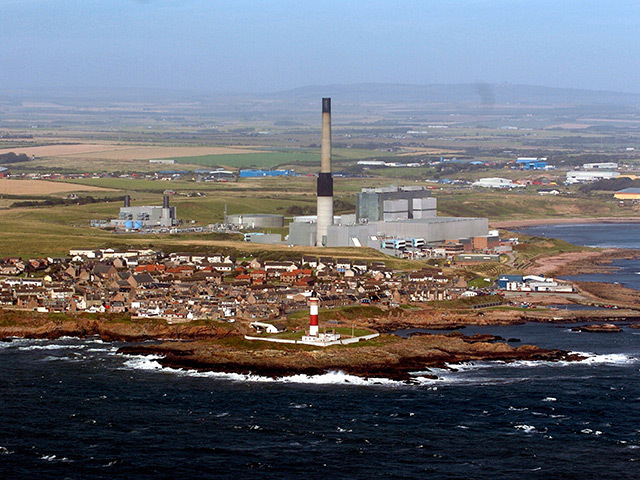 The first stage of a massive north-east energy scheme which is forecast to generate thousands of construction jobs is poised for approval.
A planned expansion of Peterhead Power Station would clear the way for a £700million subsea link between Aberdeenshire and England.
The ambitious project, which is being led by Scottish Hydro Electric Transmission (Shetl), would significantly increase the volume of electricity which can be transferred around the UK.
The Scottish end of the development requires a new 400kV substation and underground cabling at land near the existing Peterhead plant – one of Scotland's most easterly points.
Original designs for scheme were approved by councillors last year.
Now Shetl have returned with revised proposals, which have also won the support of local planning officers.
Members of the Buchan area committee have been urged to wave through the new plan at their meeting on Tuesday.
The current UK transmission system is at full capacity, so the new subsea link would allow extra electricity to flow between Scotland and England and allow more renewable energy to be fed into the grid.
Inefficiencies were highlighted last year when six Scottish windfarms were paid hundreds of thousands of pounds in compensation after being forced to shut down when it was too windy and the National Grid overloaded.
Shetl has teamed up with the National Grid to develop the plans, which would involve a two-gigawatt cable being run under the seabed from Boddam to Teesside.
The scheme, known as the Eastern Link, could be ready by 2018, although the 400kV substation would need to be in operation by 2016.
Land at Newton of Sandford, near Peterhead power station but on the opposite side of the A90 road to Aberdeen, has been earmarked for the substation.
A council planning spokesman said yesterday: "Importantly, this proposal will help facilitate energy generation within the north-east, in line with national policy.
"It is acknowledged that the substation building, by virtue of its size and bulk, will have a significant visual impact on the approach to Peterhead.
"However, it is considered that the development can be accommodated within this landscape, subject to mitigation works."
He added: "The proposal will also bring economic benefits in terms of jobs during the construction phase of the development, which will benefit the local economy."
A Shetl spokesman said that the subsea link represented significant investment in the north-east.
Recommended for you

Sir Keir Starmer pledges publicly-owned energy company