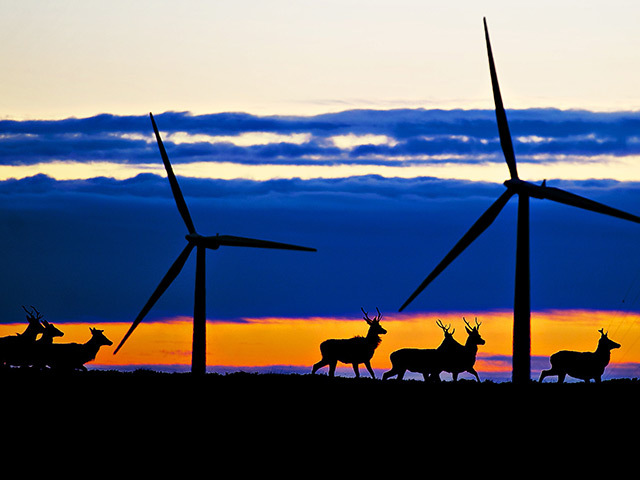 Almost a fifth of Scotland has been put off limits for new wind farm developments.
The Scottish Government has published new planning regulations banning turbines from all national parks and national scenic areas – 19% of the country.
The regulations were revealed yesterday in conjunction with a new map from Scottish Natural Heritage (SNH) identifying 42 nationally important areas of wild land.
It includes the Cairngorms and large parts of the Highlands and Argyll and Bute.
The Scottish Government said the new planning regulations and the map would provide "significant protection" to about 30% of the landscape.
However, critics voiced concern that two areas had been removed from an earlier draft map.
The sites in question cover part of the Monadhliath mountains, where permission was given for the 67-turbine Stronelairg windfarm earlier this month, and land south of Loch Tay, which campaigners claim is "under siege from windfarm developers".
"This delivers less protection for fewer areas than conservationists were hoping for," said Linda Holt, of Scotland Against Spin.
Joss Blamire, senior policy manager with the industry body Scottish Renewables, said: "The Scottish Government needs to ensure the new planning framework does not rule good quality proposals out. We reaffirm our view that new developments are best judged on a case-by-case basis."
The SNH map, drawn up after a seven-week consultation, backs up the new National Planning Framework 3 (NPF3) and Scottish Planning Policy (SPP) which will shape the nation's long-term economic development and planning policy.
The two documents cover policies relating to areas such as transport, town centres, energy and infrastructure, and the balance of economic growth with environmental protection.
"We have taken steps to ensure no windfarm developments can go ahead on our national parks and national scenic areas, and we have strengthened the protection of wild land, with new maps and inclusion directly in the SPP and NPF3," said Planning Minister Derek MacKay.
NPF3 confirms government support for 14 national developments, including carbon capture and storage at Peterhead, upgrading the electricity network, and the expansion of Aberdeen harbour.
New measures on using hydraulic fracturing – or fracking – to extract gas will require locals to be consulted and buffer zones to be set up between any such sites and communities.