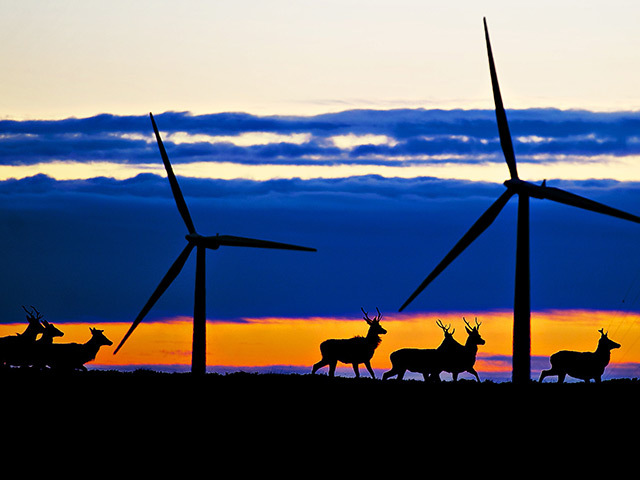 Philanthropists and foundations should use funds worth billions of pounds to fight climate change, leading environmentalists have urged.
A group of 160 award-winning environmentalists from 44 countries issued a declaration urging philanthropic foundations to use their financial clout to back moves to tackle global warming, helping efforts to secure a new international climate treaty.
They made the call ahead of a UN climate summit in New York, organised by Secretary General Ban Ki-moon, to drive action on climate change ahead of talks in Paris next year when a new global climate deal will be negotiated.
It is hoped that the billions of pounds held in endowment funds could help tip the scales in favour of climate action, stimulating vital investment in a clean energy future and showing support for an ambitious climate treaty.
In a full-page advertisement published in the International New York Times, the environmentalists urge philanthropic foundations to "deploy their endowments immediately in the effort to save civilisation".
The "environment laureates' declaration on climate change" warns that the world is heading for 4C to 6C of warming as a result of policies burning coal, oil and gas.
They said there were "terrified that we will lose our ability to feed ourselves, run out of potable water, increase the scope for war and cause the very fabric of civilisation to crash as a consequence of the climate change that global overheating will bring about."
But they said they believed that the world's philanthropic foundations, "given the scale of their endowments, hold the power to trigger a survival reflex in society, so greatly helping those negotiating the climate treaty".
The European Environment Foundation (EEF), which circulated the declaration for people to sign, is writing to foundations urging them to invest directly in clean energy companies and low-carbon projects, and make grants to support clean-energy start-ups.
They should take their money out of fossil fuel companies or, if they remain invested, to campaign as shareholders for the firms not to develop new reserves, the EEF is urging.
Foundations have already begun to take action on climate change through the "divest-invest" coalition which has seen 40 organisations with assets of $2billion (£1.2billion) pledge to pull out of fossil fuels and switch to clean energy.
The UK's Jeremy Leggett, founder of solar company Solarcentury and co-ordinator of the declaration, said there was a "rising tide of sentiment" in favour of clean energy, backed by falling costs of technology such as solar.
"We've got an equally sudden eruption of appreciation that so much of the fossil fuel industry is itself in some sort of last chance saloon, with rising capital costs of oil and gas and in the coal industry air quality considerations forcing bankruptcies left right and centre," he said.
He said the call was receiving early noises of support from foundations, and pointed to action already being taken by organisations ranging from the World Council of Churches to the British Medical Association to stop investing in fossil fuels.
"This is a rising positive mega-trend for the climate with multiple foundations and that makes this exercise all the more timely," he said.
"The foundations have an awful lot of resources they could throw into the battle sitting there accumulating interest," he said, adding they would have a difficult job explaining to the younger generation why they did not "turbo charge" climate action if the Paris talks failed.
And he said foundations could insist that the companies they invest in give 5% of their profits into climate and development funding, unlocking significant amounts of funding needed to help fight climate change.
He pointed to Solarcentury, which gives 5% of its profits to SolarAid, a charity the company set up to provide affordable solar lamps to rural people in Africa and eradicate the reliance on polluting and unhealthy kerosene lamps.
Recommended for you

Public campaign needed to highlight case for new transmission, trade body says