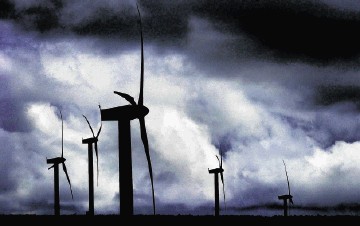 EDF Energy Renewables has sold a majority stake in three of its UK onshore wind farms to CGN (China General Nuclear Power Corporation).
The company said the money from the sale will be used to make further investments in  renewable projects in the UK.
It will continue to own a 20% share in the three wind farms and also continue to run, maintain and operate the sites and provide asset management services for the new owners.
The wind farms are Green Rigg, Rusholme and Glass Moor II.
EDF Energy chief executive Vincent de Rivaz said: "This deal is part of our continuing strategy to release capital to allow the development of other renewables projects in the UK.
"CGN made the best offer in a highly competitive auction and the deal shows their commitment to the UK and the strong relationship EDF Group has with them.
"EDF and CGN have worked together for 30 years and are engaged in ongoing discussions for the UK's first nuclear power station for a generation at Hinkley Point in Somerset.
"We have built up close ties with the communities around these sites and we will remain responsible for all aspects of their operation."
EDF Energy said it will continue to buy all of the electricity generated by the wind farms.
CGN Europe Energy CEO Wei LU said: "CGN is very happy to be able to implement the first investment of renewable energy in the UK.
"This is a good beginning of concrete co-operation between CGN and EDF in Europe. And we are proud to supply clean energy to British people."