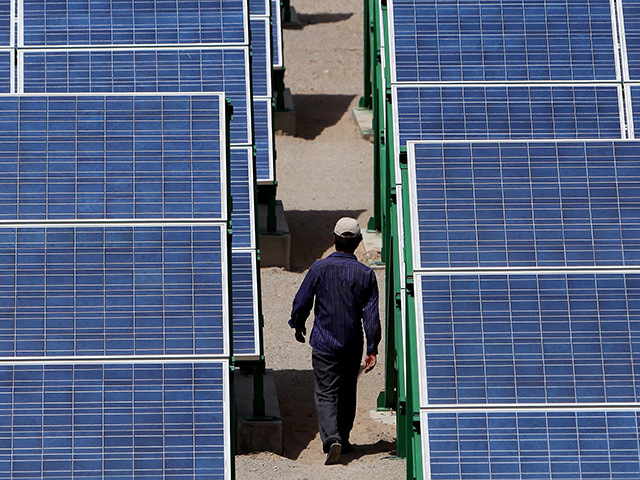 Cheap and popular solar power has lost out in an auction of contracts for green energy projects worth more than £315 million, the industry has claimed.
The first auction of its kind has awarded subsidies, paid from consumer bills, to 27 renewable electricity projects which together could power 1.4 million homes – equivalent to all the households in Wales.
But just five solar farms, which were competing with other "established" technologies such as onshore wind and hydro for a share of a £50 million pot, have secured contracts for 71 megawatts (MW) of power.
Fifteen onshore wind farms, providing 10 times as much capacity (749MW), have secured subsidies in the auction.
Offshore wind was competing as a less mature technology in a separate part of the auction which accounted for the majority of the £315 million, and secured contracts for two wind farms with a combined capacity of 1,162MW.
The solar industry said stable support could make the technology – which is consistently backed by 80% or more of the public – subsidy-free and as cheap as fossil fuel power such as gas within a few years.
But it lost out in an auction which favoured bigger players over the smaller businesses that are generally behind solar farms and large-scale arrays, industry leaders said.
It criticised the Government for failing to provide a level playing field, with other renewable energy still able to take advantage of the old system of subsidies, the Renewables Obligation, until 2017, with the scheme only closed to large solar farms.
The Government had already faced criticism for allocating the majority of the money available for subsidies up to 2020 to just eight major projects without auction.
As the results of the auction were unveiled, Energy Secretary Ed Davey said: "This world-leading auction has delivered contracts for renewables projects right across the UK.
"These projects could power 1.4 million homes, create thousands of green jobs and give a massive boost to homegrown energy while reducing our reliance on volatile foreign markets.
"The auction has driven down prices and secured the best possible deal for this new clean, green energy."
The winners of the auction were awarded 15-year contracts which guarantee a price for the power generated as part of the Government's plan to encourage renewable energy.
Officials said the auction process would deliver more than 2,000MW or two gigawatts (2GW) of green power capacity, cost £110 million less a year than it would have without competition, with around 550MW more capacity than would have been funded without competition.
But Paul Barwell, chief executive of the Solar Trade Association, said: "The soon to be cheapest and most popular renewable – solar power – has lost out in a complex auction scheme that favours big players and genuinely established technologies.
"Is a policy that trips up the UK's emerging solar industry really a successful policy? We don't think so.
"It is essential that changes are made to the next round of auctions in October to ensure that smaller UK solar companies can have the confidence to enter."
He said the current system is too much of a risk for small or medium solar companies to put in a bid for a contract.
As a result of the auction, just 32MW of large-scale solar, enough to power 7,000 homes, will be built in the next financial year, a huge drop for the industry on the current year when 2GW-3GW will be installed, the STA said.
Alex Fornal, head of project development at Solar company Juwi, which made three unsuccessful bids, said wind had taken most of what was already a "minuscule" budget and called on Government to apply a more sensible budget for the next auction in October to support solar.
"If properly supported solar will become the first renewable to compete with conventional generation and reach grid parity by the end of the decade," he said.
Solar farms have come under fire from some Tory ministers who have labelled them a "blight on the landscape" and claim they are taking land away from farming – although farming leaders say the land can have many uses and solar supports farm businesses.
The Government has also been accused of attempting to curtail new onshore wind developments, with Prime Minister David Cameron claiming people were "fed up" with them – although official polling shows two-thirds of people support the technology.
In response to the auction, which set "strike prices" of what would be paid for power from various technologies, Greenpeace chief scientist Doug Parr said: "Today's announcements show renewables' costs are plummeting, and will mount a growing challenge to conventional sources of power in delivering energy security for the UK.
"Those who say we should tackle climate change but are opposed to wind and solar farms need to explain how they plan to cut carbon emissions whilst keeping consumer bills as low as possible.
"We've known onshore wind is much cheaper than nuclear for a while, but now we learn that solar power is already cheaper than new gas generation in some cases.
"It makes you wonder what could have been achieved with less party political manoeuvring and more stable Government support for the clean technologies already being embraced by the world's largest economies."
Recommended for you

'We have lost a year': Plans for £18bn UK-Morocco energy link stall