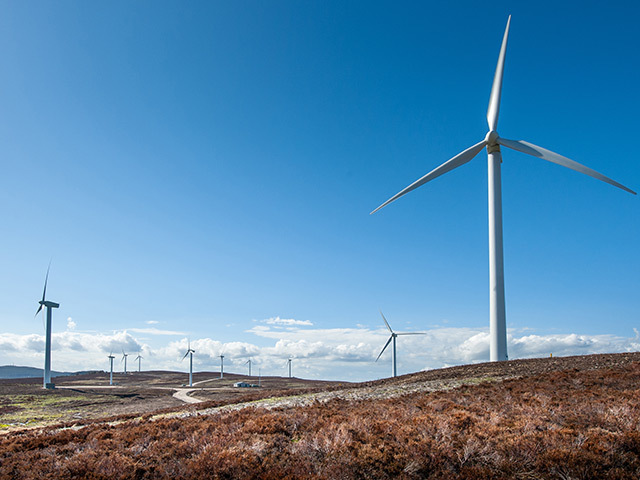 Renewable energy firms are at risk of "shutting up shop altogether" as a result of the early withdrawal of government subsidies, a Westminster committee has been told.
Scottish Renewables, which represents the sector, has warned investor confidence has already been hit by the UK Government's decision to exclude new onshore wind farms from a subsidy scheme from April 2016 – a year earlier than expected.
Jenny Hogan, director of policy at Scottish Renewables, has asked the Scottish Affairs Committee to give "full consideration" into holding an inquiry on the matter, which she said would have a disproportionate impact on Scotland.
The announcement that the Renewables Obligation (RO) scheme, which is funded by levies added to household bills, would be withdrawn a year earlier than planned could cost up to £3 billion of investment and puts at risk 5,400 jobs which are reliant on the onshore wind sector, she said.
"Scottish Renewables is deeply concerned that the UK Government's recent announcements will have a disproportionate impact here, both on jobs and investment, as well as our ability to meet our climate change target," Ms Hogan said.
She continued: "Is the industry safe and secure? I think the short answer is no. The reason why we believe that is because of the way this is being done.
"To completely take the support scheme away so quickly is avoiding the chance for the industry to continue on its trajectory of reducing costs, which it is doing.
"This is really just pulling the rug from under the industry's feet.
"I can tell you on a regular basis our members and other companies are telling us that they are having to make redundancies, some are even at risk of shutting up shop altogether, so this is really a big concern because of the way it's being managed."
WWF Scotland director Lang Banks said: "It's deeply concerning to hear that, as a result of UK Government decisions, some renewables firms are already starting to make redundancies. This is bad news for the environment and for Scotland.
"We previously warned that cutting support for the lowest-cost renewable technology would be a backward step that would either see bills rise or climate targets missed. Now we learn it's also putting jobs and businesses at risk.
"If the UK Government wants to be taken seriously as a leader at the forthcoming UN climate talks, then it urgently needs to start setting out how it will meet its climate and renewables targets. It could start by seriously rethinking how it implements its plans to end support for renewables."
Further changes, such as the UK Government's decision to postpone the next Contracts for Difference (CfD) auction for large renewables projects, also mean two large projects in Scotland which have already received planning consent are now "facing enormous uncertainty", Ms Hogan added.
It is not known when the next allocation of the CfD scheme, which awards subsidy contracts for green energy developers, will take place.
Ms Hogan's appearance at the committee meeting held in Edinburgh came as Scottish Renewables published the findings of a survey of lenders to the renewable energy sector.
The survey targeted a sample of active onshore wind investors, asking them about their willingness to lend to projects in the aftermath of the UK Government's announcement to close the subsidy scheme a year early.
More than half of lenders who responded said they were not prepared to lend until the UK Energy Bill had received Royal Assent, not expected until next year.
One of the main factors was the current political and regulatory risk concerning the Renewables Obligation.