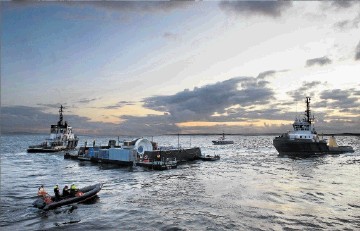 The first phase of Orkney's new fully funded community wind turbine scheme is expected to go live later this month.
Farmers and landowners at 20 properties are set to benefit from discounted electricity for at least two decades as a result.
Hamsin Wind is aiming to install over 60 single onshore wind turbines at residential and commercial sites across Orkney by the end of 2015 and is actively seeking applications from interested parties.
Hosts do not have to pay any money towards the turbine, its installation or future maintenance.
Planning and capital costs are entirely covered by Hamsin.
Cameron Garson from West Stove, Sandwick, is one of the first hosts to be connected.
He said: "The main farm, 'Huan, Sandwick', benefits from electricity produced by a C&F Green Energy 20kW turbine that was installed a few years ago, and we have seen the cost saving results that have been made on the farm because of this turbine."
Measuring no more than 20 metres high, the Kingspan Wind KW6 turbines are manufactured in Scotland and have been specially selected due to their ability to withstand high wind speeds.
Peter Bachmann, director at SEP, said: "Our investment into this project is the first from our Environmental Capital Fund which specialises in financing small-scale clean energy infrastructure projects.
"Scotland's Highlands and Islands have vast renewable energy potential and Hamsin will help remote communities benefit from their local wind resource to generate green, low cost power. With the installation of a 6kW turbine the host is able to save up to £3,000 per annum in electricity costs.
"Orkney is already one of the world's greenest islands in terms of renewable energy generation so it was a natural starting point for Hamsin."
Recommended for you

Energy minister promises to 'remove barriers' to offshore wind deployment