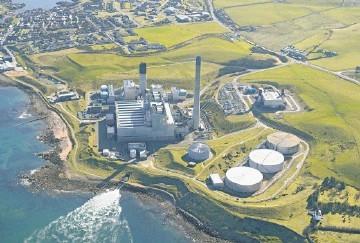 The UK Government is axing its £1 billion competition to develop "carbon capture and storage" technology on power stations, including Peterhead.
The competition, which had two bidders – the White Rose scheme in Yorkshire and the Peterhead scheme in Scotland, now cannot proceed on its current basis, the Government said.
The Government, in announcement to the London Stock Exchange, said the £1 billion funding for the scheme – to develop technology which can capture the polluting carbon emissions from fossil fuel power stations – was no longer available.
The news has prompted dismay and anger from many quarters.
Scottish Energy Minister Fergus Ewing said: "The UK Government's decision to scrap its £1 billion Carbon Capture and Storage (CCS) programme is a disgrace. It shows complete disregard for tackling climate change, utter indifference to developing the crucial new technologies that will cut emissions and is another UK Government hammer blow to energy generation in Scotland.
"This should have been a huge industrial opportunity. Instead the decision to pull the plug on the CCS programme, to meet a deeply flawed austerity agenda, is breathtakingly short-sighted, even for this UK Government."
Carbon Capture and Storage Association chief executive Dr Luke Warren said the announcement was "devastating".
He added: "Only six months ago, the Government's manifesto committed £1 billion of funding for CCS. Moving the goalposts just at the time when a four-year competition is about to conclude is an appalling way to do business.
"This announcement is a real blow to confidence for companies investing in CCS. We call on the Government to come forward – as a matter of urgency – with their plans for CCS as this technology is critical for the UK's economic, industrial and climate policies.
"Without concrete Government support for CCS, the UK will lose the opportunity for cost-effective decarbonisation."
Professor Stuart Haszeldine, SCCS director: "It has now become clear that announcements made by Chancellor George Osborne regarding energy innovation and support for low-carbon electricity were economical with the facts about support for Carbon Capture and Storage (CCS) in the UK.
"A focus on CCS research and development is not enough to deploy this essential climate change technology – project developers and others in the CCS community are united in their stance that large-scale projects are needed on the ground.
"Multiple analyses have demonstrated that this is a feasible and cost-effective method to decarbonise not just UK electricity, but also heat and industry, whilst driving improved efficiency.
"The UK Government's reliance on nuclear power to deliver our future electricity needs depends entirely on whether projects such as Hinckley Point can actually be delivered on time."
Dr Jenifer Baxter, head of energy and environment at the Institution of Mechanical Engineers, said: "This is very disappointing news. There have been concerns about the initial costs of this technology, but we will only be able to properly assess the viability of UK Carbon Capture and Storage (CCS) upon the successful delivery of a demonstration project.
"Demonstration projects are a recognised requirement for full commercialisation of all large technologies, without such, new energy management technologies will remain in the shadows."
"If we are serious about building a clean and secure energy sector we need a diverse energy system, and CCS is central to this. In addition to the potential this technology has in making coal-fired generation low carbon, there is great promise for this technology to be used to retrofit gas-fired power stations in the future as well.
"The Government has outlined plans for the winding-down of coal-fired generation. With just one nuclear reactor currently being planned, the UK looks set to experience a new dash for gas. Without CCS technology this will mean we are locking ourselves in to relying on unabated fossil fuel power for generations to come."
Doug Parr, head of policy at Greenpeace, said the Treasury had scrapped the "centrepiece" of the Prime Minister's bid to cut carbon from the energy sector as he headed off to crucial international talks on tackling climate change in Paris.
"With a threadbare policy and no cash in place for CCS, George Osborne's dash for gas is seriously eroding David Cameron's plan.
"This is yet another clear-cut example of the Government's incoherent energy policy being played out.
"We need the Government to commit to clean, renewable energy – it's competitive, home grown and creates jobs. This is a plan that makes economic and environmental sense," he said.