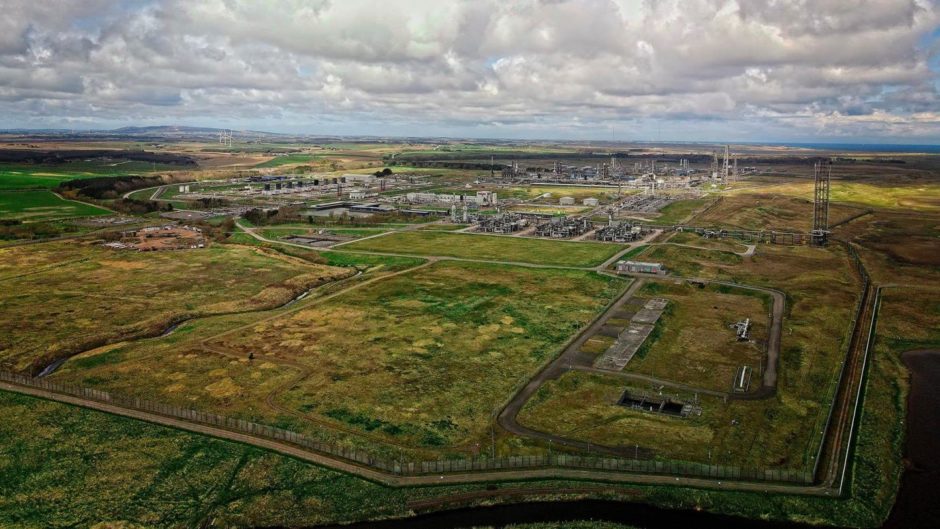 UK firm Carbon Clean has been selected to carry out the Front End Engineering Design (FEED) services for Aberdeenshire's Acorn carbon capture and storage (CCS) plant.
The project's partners, Storegga, through its wholly owned subsidiary Pale Blue Dot Energy, Shell and Harbour Energy, have hailed the contract award as an "important development".
London-headquartered Carbon Clean – which has previously received financial backing from the likes of Equinor, Chevron and Marubeni – is a a leader in low cost CO2 capture and separation technology.
It will work in collaboration with Aberdeen-headquartered Wood on engineering, process design and construction planning for the carbon capture process unit.
Acorn is based at the St Fergus gas plant, near Peterhead, and is one of the most mature projects of its kind in the UK.
It has the potential to remove at least half of the emissions set out in the UK Government's 10 Point Plan and is competing to be part of the initial tranche of CCS clusters .
The carbon dioxide capture facility is currently in the detailed engineering and design phase.
Aniruddha Sharma, chief executive of Carbon Clean, said: "Carbon Clean has a proven track record of delivering scalable, cost-effective carbon capture solutions; I am delighted to announce our second UK-based project of 2021. We are a British business and, we must positively contribute to the UK's decarbonisation efforts.
"The carbon dioxide we are hoping to capture from the Acorn CCS Project will have a tangible impact on the UK's transition to net zero. We look forward to getting underway with the ("FEED") stage and working with the other consortium partners to implement novel carbon capture and storage solutions."
A final investment decision on Acorn is expected early next year, with the project aiming to become operational by the mid-2020s.
By reusing existing gas pipelines, Acorn will transport captured CO2 from St Fergus into storage sites below the North Sea.
The CCS network created through Acorn has the potential to be one of the largest in the world, transporting and storing captured emissions from across Scotland, the UK and Europe.
Work is also ongoing to establish a direct air capture facility at St Fergus that would be capable of removing carbon from the atmosphere.
Last week, petrochemicals giant Ineos signed a Memorandum of Understanding with Acorn, paving the way for a drastic reduction in Scotland's emissions.
Nick Cooper, chief executive of Storegga, said: "This contract award is an important milestone for the Acorn CCS Project. It is excellent working with a group as innovative as Carbon Clean. Like us, they started as a small entrepreneurial business and have used UK Innovation Funds to create organisations that are now ready to significantly contribute to the UK energy transition.
"The Acorn Project has a crucial role to play in helping decarbonise our energy system. It will provide critical infrastructure at scale that will cost effectively transform carbon intensive industries across Scotland and the UK and even Europe; helping build a fairer, more resilient economy, while sustaining and creating low carbon jobs."
Giuseppe Zuccaro, president of process & chemicals at Wood, said: "Reducing carbon intensity is key to delivering sustainable energy solutions and we are proud to play our part in taking St Fergus, a site we have supported for many years, into the low carbon future. The Acorn Project will pave the way for carbon capture technology and execution in the UK; a critical step towards net zero.
"Our carbon capture process knowledge, previous construction experience at St Fergus, and record in designing environmentally considerate projects, makes this a very exciting prospect to work with Carbon Clean on Scotland's energy transition journey."
Anne-Marie Trevelyan, UK Energy & Climate Change Minister, said : "The UK is fast becoming a world-leader in developing new technology that captures and stores harmful emissions. Pale Blue Dot and Carbon Clean, who have received £11 million UK government funding, will help the UK go further to deploy critically important carbon capture and hydrogen infrastructure that will help British industries to decarbonise in a way that's competitive and projects jobs."
Recommended for you

Indonesia lagging Malaysia as CCS starts to grip Southeast Asia