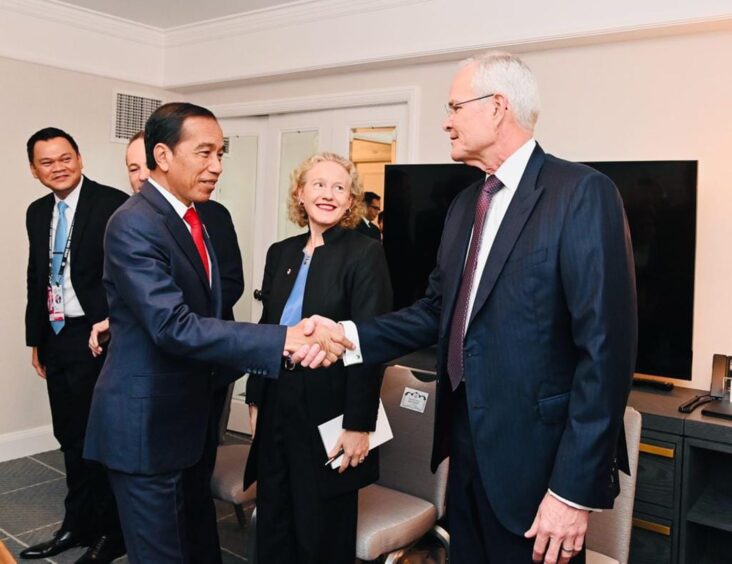 Indonesian President Joko Widodo has visited the US, signing up low-carbon plans with ExxonMobil and Chevron. Indonesia has also reached a strategic partnership agreement with the US government.
Widodo met Exxon CEO Darren Woods on November 15 in San Francisco, alongside Exxon's local head Carole Gall.
The president said discussions had focused on two points, in which Exxon will invest $15 billion.
The company will invest in a green petrochemical facility and carbon capture and storage (CCS), Widodo said. The president went on to invite Exxon to invest in renewable energy and infrastructure, including for the new planned capital, Nusantara.
Pertamina signed a deal during the week to work with Exxon on a CCS hub in the Java Sea. This would be able to hold 3 billion tonnes of CO2, with a price tag of more than $2bn.
The focus would be on the Asri and Sunda basins, the companies agreed at a ceremony on November 13.
Pertamina Geothermal also struck a deal with Chevron and Mubadala Energy during the presidential visit to the US. The three companies signed a joint study agreement to explore geothermal opportunities in Kotamobagu, North Sulawesi.
Mubadala reported the agreement was aligned with Indonesia's aim to reach 3.3 GW of geothermal capacity by 2030. In addition to supplying the grid, the company said the geothermal power in Kotamobagu could go into producing low-carbon hydrogen or ammonia.
Chevron Indonesia country manager Wahyu Budiarto said this was the company's fifth deal with Pertamina.
Mubadala signed up to work on CCS plans in Indonesia with Pertamina, in July this year. Mubadala set out plans, in 2022, to shift its focus towards blue hydrogen and CCS.
JETP plans
Indonesia signed up to the Just Energy Transition Partnership (JETP) in November 2022. Widodo held talks with US President Joe Biden, including on the $20bn JETP programme.
The US set out wide-reaching plans under the agreement with Indonesia, including new climate plans. These include plans to evaluate phasing out coal use, pricing of renewable energy and modelling electrification.
Plans were also sketched out on CCS, with the US' Commercial Law Development Program and the Indonesia Carbon Capture and Storage Center teaming up on a bilateral programme on developing this. Indonesia set out its plan to join the Carbon Management Challenge in September, it would be the first Southeast Asian country to do so.
USTDA will support a feasibility study on a cross-border connection for the power grids of Indonesia and Malaysia.
Other topics included Indonesia's plans for critical minerals, renewable energy minigrids, air quality and waste management.
Recommended for you

US oil majors stay ahead of Europe as deals beat strategy pivot