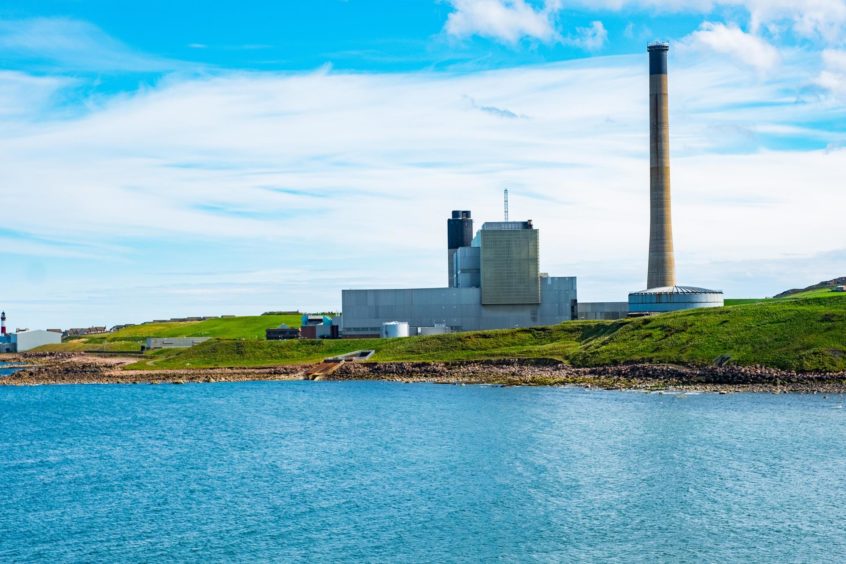 Plans for a new low-carbon power station in the north-east, which would support hundreds of jobs during the construction and operation phase, have been unveiled.
SSE Thermal and Equinor have teamed up to develop what could become one of the UK's first power stations to be equipped with carbon capture and storage in Peterhead.
It's claimed the plant would "propel" the UK's net zero ambitions, meeting 15% of the UK Government's 10 million tonne target for carbon captured by 2030.
The Peterhead CCS Power Station is currently in the development stage, with a final investment decision dependent on the progress of the necessary business models and associated infrastructure, SSE said.
If the project is given the green light, it would support about 1,000 jobs in the construction phase, while scores more long-term skilled positions would be created to operate the plant.
SSE said that, with the appropriate policy mechanisms in place, the new 900 megawatt gas-fired station could come online by 2026.
The new decarbonised facility would provide "flexible and efficient" power, allowing renewables to be incorporated into the energy system while maintaining security of supply.
It's hoped it would also stimulate the development of CO2 transport and storage infrastructure across Scotland.
The Peterhead site in Aberdeenshire has been described as "ideally placed" for carbon capture technology, which involves storing emissions in depleted gas reservoirs.
It has access to "essential" infrastructure being developed through the Acorn project, which is housed up the coast at the St Fergus gas terminal.
Acorn is exploring utilising existing oil and gas pipelines to aid in the storage of carbon about 60 miles off the coast in rock formations deep below the North Sea.
Peterhead CCS Power Station and Acorn both won funding from the UK Government's £171 million pot for the Industrial Decarbonisation Challenge Fund in March.
Anne-Marie Trevelyan, the UK's energy minister, said: "Carbon capture storage technology is one of the most exciting and innovative ways that we're looking to tackle climate change, and today's announcement marks a significant step towards a greener, more sustainable future for Scotland and the whole UK.
"Once up and running, CO2 emissions saved through this station alone will be the equivalent of taking 60 million cars off the road every year. Developing and applying this technology in Scotland will be a key element in the energy transition whilst creating a skills base and jobs on the ground that will endure and grow for decades to come.
"The UK Government has set out plans to work hand in hand with industrial areas and businesses to ensure they have the skills needed to lead the way."
SSE was previously involved in a separate project with Shell to develop CCS at Peterhead Power Station.
However, the scheme collapsed after the £1 billion grant it had been competing for was axed by the UK Government.
Investing in CCS, which was originally developed as a method for operators to increase oil and gas production, is included on Westminster's 10 Point Plan for a Green Industrial Revolution, published last year.
Researchers have previously pinpointed the north-east as one of the areas where the technology may be able to be deployed, due to the specific infrastructure and skills in the region.
Stephen Wheeler, managing director of SSE Thermal, said: "We're delighted to announce this agreement with Equinor today to work together to decarbonise our power generation at Peterhead.
"Through cutting-edge carbon capture technology, we can decarbonise this vital flexible power generation, as well as heavy industry and other hard-to-reach-sectors of the economy, which will be crucial in Scotland transitioning to a net zero future.
"Ahead of the critical COP26 conference in Glasgow this year, there is a clear opportunity to demonstrate leadership on CCS, maximising the benefits of a green recovery in industrial regions, and ensuring a just transition for workers and communities."
Grete Tveit, senior vice president for low carbon solutions at Equinor, said: "We are pleased to be joining SSE Thermal in the development of this world-leading plant at Peterhead. It is another important step in the energy partnership between Equinor and SSE.
"This power station is a milestone for Scotland's ambitions to create a decarbonised industrial cluster. Projects such as these are critical for efforts to reach net zero, contributing to the UK's goals to become a world leader in low carbon, and also helping ensure a just transition for industrial communities."
David Duguid, UK Government minister for Scotland and MP for Banff and Buchan, said: "Thanks to the UK Government's £31m investment into Scotland through the Industrial Decarbonisation Challenge Fund, we're enabling crucial projects like this one at Peterhead to play a huge part in our path to net zero.
"We are delighted to see this project move forward along with the Acorn CCS Project at St Fergus, which will connect industrial sites across East Scotland with access to world-class, safe carbon storage resources in rock deep below the North Sea.
"The work done here by SSE Thermal and Equinor underpins the UK Government's vision for sustaining industry, safeguarding jobs, and building back greener."
Scottish Enterprise interim CEO, Linda Hanna said: "In line with our ambitious climate change targets, Scotland is leading the way on a just energy transition. Supported by key Scottish Enterprise and Scottish Government policies, the Peterhead CCS Power Station project demonstrates this transition in action.
"This key energy site in Scotland is utilising the talent and connections within the industry to support wider industrial decarbonisation and will be a key area of discussion at COP26. With links to the Acorn CO2 project too this is an example of Scotland leading the way on energy transition as we highlight the expertise and innovation available in the industry in areas such as hydrogen and carbon capture and storage.
"This collaboration with Equinor will bring a wealth of expertise to progress the project in the north east of Scotland and is welcomed by Scottish Enterprise as we continue to work with companies across the energy supply chain for the benefit of the economy and to ensure a sustainable energy future."
Recommended for you

Acorn backers 'ready to step up' following Track 2 CCUS announcement