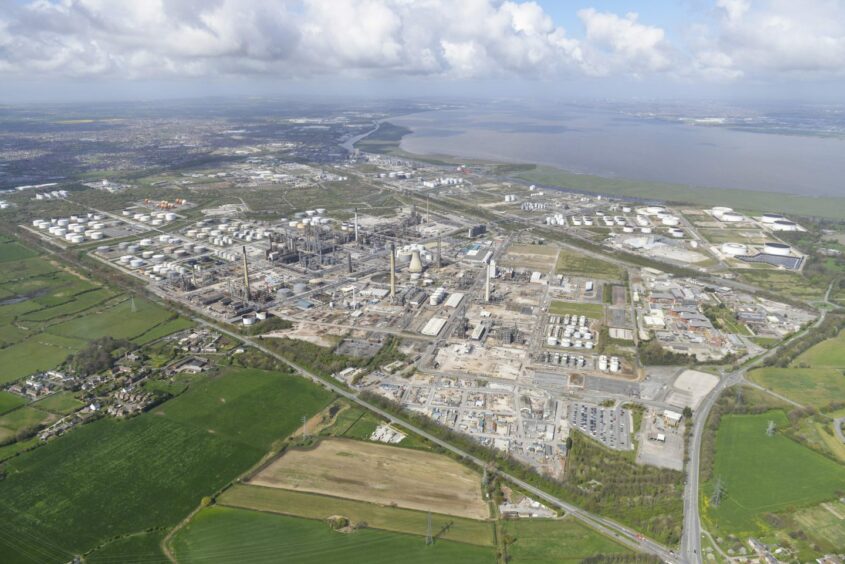 Essar Oil UK has announced plans to build a £360 million carbon capture plant at its Stanlow refinery, as part of wider plans to decarbonise the north west of England.
Set for completion in 2027, Essar said the plant would capture an estimated around 810,000 tonnes of CO2 per year, or nearly 40% of the emissions from its Stanlow facility.
Sited on a 770-hectare industrial area of Ellesmere Port, Stanlow processes up to 9 million tonnes of crude every year and supplies around 16% of the nation's road transport fuels, as well as feedstocks such as toluene, propylene and ethylbenzene.
It also forms a key component of the HyNet North West industrial cluster, which intends to produce around 1GW per year of hydrogen across two units from 2026, and capture emissions from across the north west and north Wales, which will then be stored using Eni infrastructure in Liverpool Bay.
Essar's CCS project has been selected by BEIS as a Phase 2 winner in the CCUS cluster sequencing process earlier this summer and is currently progressing through the due diligence stage, the company noted.
Meanwhile, engineering group Kent has been awarded a pre-FEED engineering contract to develop the facility that will capture the CO2 emitted from the refinery's full-residue fluidised catalytic cracking units, which are among the largest in Europe.
Essar Oil UK chief executive Deepak Maheshwari described the CCS project as the "single biggest initiative" for decarbonising its operations.
"Our ambition is to become a leading low carbon refinery. This is a massive undertaking, but it is a journey we are fully committed to. Not only is it the right environmental thing to do, it will future proof the critical Stanlow refinery for the long term, protecting jobs and industry, while also placing Stanlow at the very centre of the UK's energy transition," he added.
The scheme forms part of a wider £1 billion investment by the oil and chemical giant in various efficiency and fuel-switching initiatives, which also include building a hydrogen business via the launch of Vertex Hydrogen (a joint venture with Progressive Emergy; "green" fuel production including sustainable aviation fuels (SAF); and building the UK's largest biofuels storage facility at Stanlow Terminals.
A heads of terms offtake agreement has already been signed with Vertex which would see the new unit supply Essar with more than 280MW of hydrogen.
This will be used to help decarbonise Essar's existing production facilities including a new hydrogen powered furnace delivered in August this year. The £45m furnace is the first of its kind in the UK, capable of running on a 100% hydrogen source and replaces three existing units at Stanlow.
By 2030, Vertex expects to deliver nearly 4GW of low carbon hydrogen, or 40% of the UK's current national target.
Recommended for you

ExxonMobil backs launch of Solent decarbonisation cluster