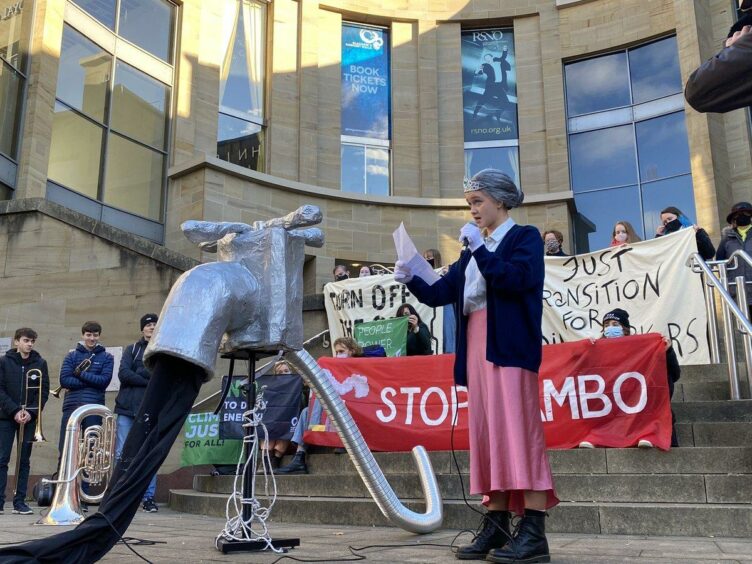 Environmental campaigners have drafted in 'royalty' in their latest effort to lampoon the oil and gas industry.
To mark 46 years since the North Sea taps were turned on, a mock ceremony has been staged in Glasgow featuring a protestor, dressed as the Queen, turning oil off.
It has been organised as part of wider protests taking place in the city to coincide with the COP26 climate conference.
Demonstrators are calling for an end to all new hydrocarbon projects, including the Siccar Point Energy and Shell's controversial Cambo field, west of Shetland.
The planned development has been at the centre of a storm in recent weeks, with environmental groups and politicians calling for it to be scrapped.
But industry figures have underlined the importance of Cambo in ensuring that domestic production can meet UK demand for oil.
Westminster is still yet to make a call on whether the field is allowed to go ahead.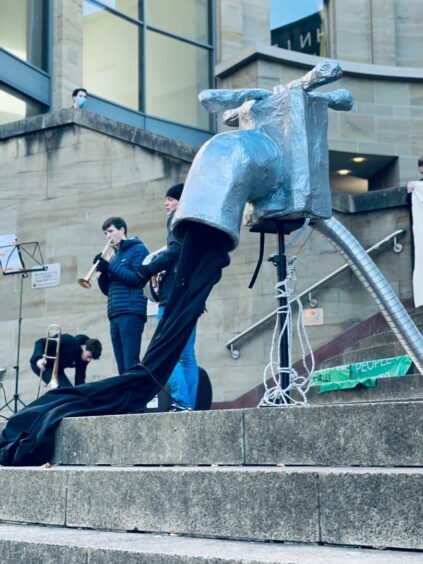 Caroline Rance, of Friends of the Earth Scotland, said: "It has been 46 years since the Queen turned on the tap: it is high time we turned it off and stopped the continual flow of oil and gas.
"If we want a liveable climate, scientists are telling us there can be no fossil fuel developments – oil and gas, as well as coal – from now on.
"Boris Johnson, as host of these climate talks, must demonstrate what real climate action looks like.
"He must reject the Cambo oil field, encourage other leaders to turn off their tap and lead the world beyond oil and gas."
On November 3, 1975, the Queen officially started the oil flowing from the Forties Field during a ceremony at BP's base in Dyce, Aberdeen.
Also in attendance on the day were Prince Philip, Prince Andrew and Prime Minister Harold Wilson.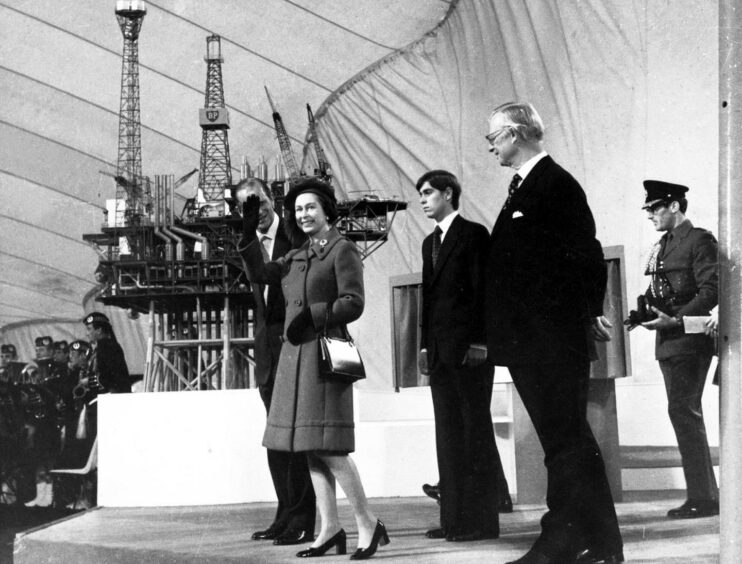 Since then the North Sea has been a cornerstone of the UK economy, supporting tens of thousands of jobs and providing billions of pounds for the Treasury's coffers.
In a speech on Monday to mark the beginning of COP26, the Queen said that world leaders needed to recognise that "the time for words has now moved to the time for action".
She added that "great comfort and inspiration" had been drawn from young people calling for everyone to play their part in tackling climate change.
Addressing campaigners on Wednesday, a Stop Cambo activist dressed as the Queen, and accompanied by a brass fanfare, said that "46 years is quite long enough", before ceremonially close the pipeline.
Rosemary Harris, just transition campaigner at Platform, said: "Boris Johnson has positioned the UK as climate leaders in the run up to these climate talks, yet he refuses to commit to a phase out of North Sea oil and gas, a step he knows we must take to pull back from this emergency.
"If he approves Cambo, or any other new oil and gas production, it just risks deferring the collapse of the fossil fuel industry, which would have devastating consequences for peoples' livelihoods, oil and gas dependent regions and the climate.
"Rather than prop up a declining industry, we need the UK government to plough investment into large-scale renewables, and implement a proper plan to help workers move into jobs that have a future."