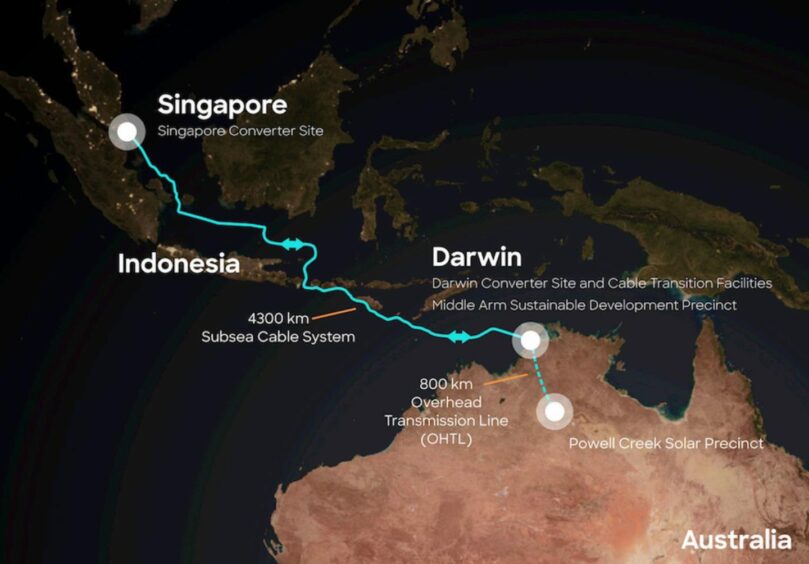 Grok Ventures has completed its acquisition of an ambitious HVDC cable plan, which would deliver power from Australia to Singapore.
SunCable is focused on the Australia-Asia Power Link (AAPowerLink). Grok Ventures, owned by Mike Cannon-Brookes, has taken control of the company. Cannon-Brookes is the billionaire founder of software company Atlassian.
The power plan could deliver around 6 GW of capacity.
Under the plan, at least 900 MW would remain in Australia for large industrial users in Darwin, Northern Territory. This could power a variety of industries, including minerals processing and green hydrogen. The amount going to Darwin industry could rise to nearly 4 GW.
The link would deliver another 1.75 GW to Singapore.
"The green energy transition remains the greatest economic opportunity of our time," said Cannon-Brookes. The power link project "has all the component parts to make the next great Australian infrastructure initiative possible. It will create more local jobs and support our green manufacturing and renewable energy industries. It's set to deliver huge volumes of green energy to Darwin – powering a burgeoning green industry opportunity in the NT."
First steps
The first priority is to secure regulatory approvals. SunCable will apply to the Singapore Energy Market Authority (EMA) to secure an import licence later this month.
The company will also work with the Indonesian government to win approval to lay cable through its territorial waters.
SunCable is already in talks with the Northern Territory government and traditional land owners.
The company has said the Northern Territory could provide up to 20 GW of solar power, which would be carried 800 km to a site northeast of Darwin. This would be the distribution point for local power.
It is also the export site for the 4,300 km cable from Darwin to Singapore.
In order to progress the plan, SunCable intends to establish a subsea cable manufacturing and testing facility, creating 800-1,000 jobs locally.
The project has many similarities to the Xlinks project, which would carry renewable energy from Morocco to the UK, a distance of around 3,800 km.
Recommended for you

Subsea cable failures could derail offshore wind ambitions