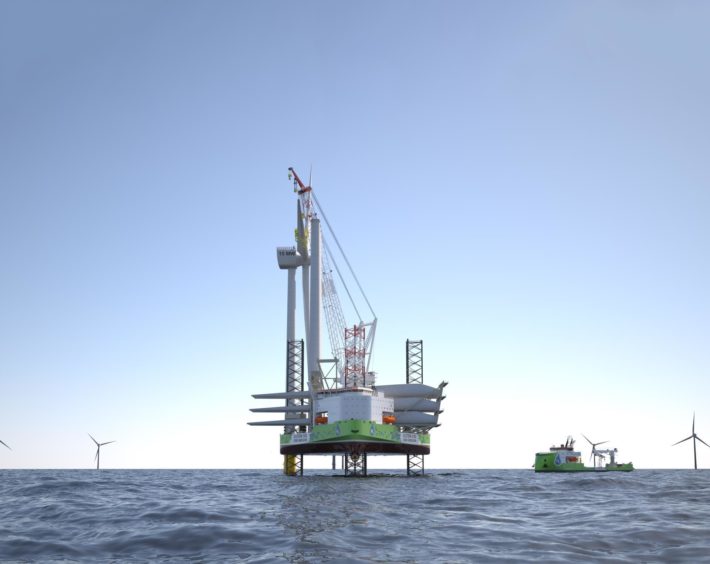 As more operators and equipment manufacturers like turbine manufacturer Vestas take the carbon neutral pledge, ship designer and builder Ulstein, of Norway, is doing its bit by offering zero-emissions vessel designs to the offshore energy marketplace.
Ulstein says zero-emission operations can be a reality today and are no longer a pipe-dream.
Last year, the company took the wraps off the latest variation of its now famous X-bow family, the SX190 zero-emissions model, which it hopes will sell as well to the oil and gas industry as offshore renewables.
Several weeks ago, Ulstein launched a further hydrogen hybrid design targeting the offshore wind industry, claiming that the J102 class turbine installation jack-up (WTIV) will be able to operate for 75% of the time in zero-emissions mode.
This can be achieved using "readily available technology" and the additional cost is said to be limited to less than 5% of the anticipated price-tag.
DNV GL recently identified the five most promising alternative fuels for shipping, with hydrogen the ultimate zero-emissions solution.
The first complete hydrogen fuelled vessel is the SX190, the design of which was drawn up by Ulstein Design and Solutions and Nedstack fuel cell technology, both located in Holland.
Ulstein said last year that the first SX190 could be ready in three years, which means sea trials in 2022.
The proton exchange membrane fuel cells specified for the SX190 will be fuelled by hydrogen from containerised pressure vessels, a well proven and readily available technology.
Such hydrogen storage containers can be loaded and unloaded by normal container handling operations and equipment, eliminating the need for expensive bunkering infrastructure and providing worldwide operational flexibility.
The hydrogen containers can be refilled at hydrogen production sites, either from industry by-product hydrogen or green hydrogen from electrolysis, making the vessel globally employable.
With today's technology, the SX190 design will be able to operate four days in zero-emissions mode.
However, with the ongoing developments in hydrogen storage and fuel cell technologies, a future zero-emissions endurance of up to two weeks is on the radar. For extended missions, the vessel can fall back on its more conventional diesel-electric system using low sulphur marine diesel oil.
Turning to jack-ups, most new designs are fitted with a battery hybrid system in addition to diesel generator sets, with a future option for hydrogen-powered, fuel-cell system.
Ulstein claims that the downside of a high-power battery energy storage system is its heavy weight and cost. That is not helpful as this places additional burden on jacking systems and reduces variable deck-load capacity.
The company says that, rather than wait for technology to be matured to perfection before developing a future fuel-cell-ready design, it is already possible to eliminate that contingency and go straight for the prize.
"We have carefully analysed the operational cycle of WTIVs and looked at the power demand in the various modes of operations," says Ko Stroo, product manager at Ulstein.
"This analysis showed that for around 75% of the time, a WTIV is in jacked-up position performing crane operations. Using a combination of a hydrogen fuel-cell system and a relatively small battery energy storage system (BESS) is then sufficient to meet the overall power demand on board and crane peak loads."
Edwin van Leeuwen, MD at the group's Rotterdam design office, says: "The same design philosophy as on our first hydrogen powered SX190 design, resulted in a much more attractive business case when applied to a turbine installation vessel."
Ulstein claims too that the hydrogen hybrid system developed for its new jack-up has been put together in such a way that future developments in hydrogen technology can easily be fitted without major modifications.
As for refuelling, that too has been thought out and draws on the SX190 model approach.
"The limited availability of hydrogen bunker infrastructure in ports is often seen as a major hurdle," warns Stroo.
"With our modular storage lay-out (on the jack-up), we want to break the chicken and egg dilemma. It creates flexibility to operate the vessel worldwide, even when bunker infrastructure is not yet present."
Also in Norway, the maritime innovation project HySHIP has been granted €8million (about $9.4million) in EU funding to further the development and commercialisation of hydrogen as a carbon-neutral fuel.
The project involves 14 European partners (one of which is Strathclyde University) collaborating on the design and construction of a new roll-on/roll-off demonstration ferry designed to run on liquid green hydrogen (LH2), as well as the establishment of a viable LH2 supply chain and bunkering platform.
Specifically, the project aims to lower the development and operational cost of a wider move to LH2 for ship propulsion throughout Europe.
The prototype vessel's no-carbon package will comprise a mix of 1,000 kWh battery capacity and a three-megawatt PEM hydrogen fuel cell. Hydrogen will be sourced from the new LH2 production plant planned at Mongstad outside Bergen by BKK, Equinor and Air Liquide.
Already named Topeka, the vessel will be an absolute first. It will sail on a fixed schedule carrying both coastwise customer cargo and containerized LH2 to the bunkering hubs.
Norwegian maritime industry group Wilhelmsen will run the ship and distribute LH2 to hydrogen hubs along the Norwegian coast. It is scheduled to become operational from 2024.
Norway's west coast is dotted with bases serving the offshore industries, with base-to-base transport representing a heavy-duty transport route eminently suited to LH2.
HySHIP is intended to be a large-scale validation of the vessel, its power system, and the distribution network. The bunkering hubs will in the future supply LH2-powered vessels including ferries and seagoing tonnage.
The funding from the EU's research and innovation programme Horizon 2020 under the Fuel Cells and Hydrogen Joint Undertaking (FCH2 JU) is subject to the signing of a grant agreement by the HySHIP partners by the end of this year.
Apart from Wilhelmsen, the HySHIP consortium partners include Kongsberg Maritime, LMG Marin, Equinor, Norled, PersEE, Diana Shipping, Stolt-Nielsen Inland Tanker Service BV, Air Liquide, NCE Maritime CleanTech, DNV GL, ETH Zürich, Strathclyde University and Demokritos.
Finally, HySHIP will also conduct three replicator studies, including a smaller, 1MW tanker barge for use on inland waterways, a 3MW fast ferry and a scaling-up study on a larger, 20MW energy system for deepsea vessels using a capesize bulk carrier as the replicator.
Recommended for you

Batteries becoming one answer to Big Shipping's decarb dilemma